August 14, 2015
Best Chocolate Cupcake Recipe Ever with Ultimate Chocolate Frosting Recipe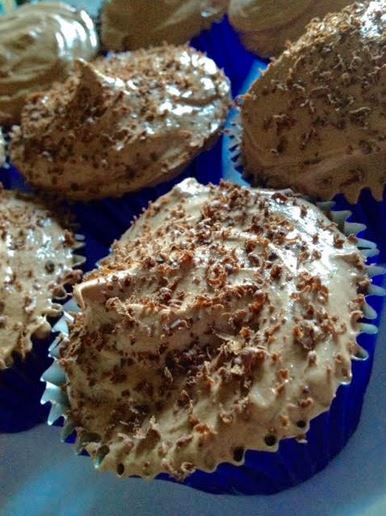 This recipe is adapted from one Craig Sams, founder of Green and Blacks, created for his bakery. It uses real chocolate in both the cupcake *and* the frosting. It is a bit fiddly but I think it is well worth the effort as the resulting cupcakes are absolutely amazing.
Remember – the quality of your bakes is founded in the quality of your ingredients. Only choose Green and Blacks, Askinosie or other quality chocolate and cocoa powder and you'll always have an excellent bake.
Ingredients
For the Cupcakes:
20g dark chocolate
125g unsalted butter
125g caster sugar
2 large eggs
1/2 tsp vanilla extract
100g plain flour
20g cocoa powder
1 tsp baking powder
Pinch of salt
For the buttercream:
100g dark chocolate
200g icing sugar (sifted)
100g butter
50ml full fat milk
How to make them:
Preheat the oven to 180C (170C fan) and line a 12-hole baking try with cupcake papers.
Melt the chocolate in a double boiler. Obviously with such a small amount of chocolate you will need to be careful and use a spatula to remove it later. Allow it to cool slightly before adding it to the egg mixture you're about to make or it will curdle the eggs.
Now, beat the butter, sugar and vanilla together until light and fluffy. Once fluffy, add the eggs to the mix one at a time. They should be at room temperature or they will not blend in properly.
Now fold in the cooled, melted chocolate.
Sift the flour, salt, cocoa powder and baking powder together and fold into the mixture.
Fill the cupcake cups. I usually start with 45g and add more from there.
Bake for about 15min until risen and golden.
To make the frosting:
Melt the chocolate and allow to cool.
Whip the icing sugar with the butter until it is fully incorporated (so no need to take to fluffy stage yet). Now add the milk to the mixture and beat until incorporated. Now on the highest setting, slowly add the chocolate and blend until the whole thing is light and fluffy.
Once the cupcakes have cooled, ice them and enjoy!
I'm entering this into We Should Cocoa