March 15, 2011
Brownies Made With Hellmann's Real Mayonnaise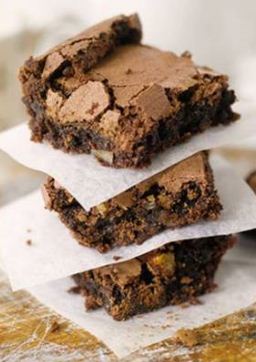 It isn't often that mayonnaise and brownies go together. In fact, I can't think of a single reason why they would. Yet I found myself one day at an event with Hellmann's who were launching a range of food recipes, including brownies, which included mayonnaise as an ingredient to reduce the saturated fat.
I'm a big worrier about trans-fatty acids which give me the occasional sleepless night until I finally accept I'll die young but without kids I don't have to worry. So anything which allows me to eat junk food and doesn't damage my health as much is welcome and that is where these Hellmann's real mayonnaise brownies come in.
Hellmann's have done extensive work with a nutritionist and a food scientist (or three) and developed these recipes to share the love and joy of how real mayo can reduce your fat intake. I kid you not – FULL FAT MAYO can help reduce your saturated fat intake. Ya… I thought the same thing you are right now and I still can't believe I ate a brownie made with mayonnaise.
But they were good. Now, I have to admit they were more cake-like than the dense brownies I love but they have a crust, were chocolaty and I got a mixing bowl full of stuff and will try them at home. It's a bit scary as the ones I tried that were lovely were made by a professional baker but I'll blog my success or failure.
But why not try yourself? The chocolate brownie recipe is here.