March 14, 2011
The East India Company Milk Chocolate with Cinnamon Leaf Bar
When I first saw it, I loved the idea of the East India company once again launching. It looked exotic and the chocolate selections were amazing. Not wanting to be greedy when offered chocolate, I selected some bars for them to choose from in case something wasn't in stock and so it was a surprise to receive whatever I did.
I received the cinnamon leaf bar in a giant box. At £5 a bar for 80g I had high hopes. Well…
As you can see from the box, this has a luxurious look and feel. The inner wrapper covering the chocolate was cut open and assailed my nose with a combination of sugar and fat and little cinnamon. That's OK, I thought, it is a milk chocolate bar and it has cinnamon. I'm a huge fan of cinnamon, I'll be fine. At the time I thought a quality chocolatier was involved so I thought it'd be OK…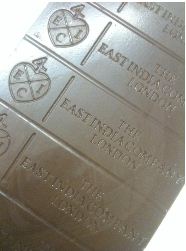 The chocolate is predictably flat as most milk chocolates are. Pretty dead. There is a slight molassas hint from the sugar but really it is very sweet for a milk chocolate in general. Perfect for a fan of Cadbury's milk chocolate. The fattiness does not coat your mouth meaning you can eat lots of it without feeling like you're growing a fur coat on your teeth 🙂 but it is fat and not nice. The cinnamon is there but without being too strong and with a slightly dulled taste. Not what I expected. I'm not sure if they could have added more without it tasting more of tree bark than chocolate but perhaps the leaf if just not flavourful enough. The cinnamon does linger on the palette after eating a piece slowly so you do keep enjoying the tingle after you finish.
This was too sweet for me but that's just me and I happen to know some of my colleagues like it a tad sweeter. I'm not sure I'd spend £5 for it though.