April 29, 2013
New Secret Sensations Sharing Pints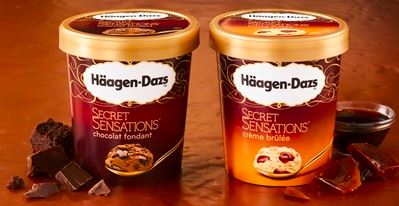 There's something about sitting down with a pint of ice cream all to yourself that is just so much fun. Eating a third or a half of the delicious interior them putting the rest in the freezer for the next attach of the ice cream munchies. Each time you attack the pint there may be less but it is just as delicious.
I was lucky enough to be sent a whole box of 8 Crème Brulee sharing pints and while I did have to sacrifice a few things in the freezer, those pints are secreted safely away for the occasional dip in. I've now spotted them on the supermarket shelves too so I know when I run out I will be able to replenish my supply 🙂
These are slightly different from the mini pots. While the mini pots have a single ribbon of the lovely caramel in them, this has secret pockets of it plus a large stash at the bottom which is absolutely lovely. The caramel has a burnt quality which isn't smoky or unpleasant, simply rich in its depth. Overall with the pieces of crunchy caramelised sugar like a real crème brulee, it is an absolutely lovely treat.
I can imagine that the chocolate version is going to be absolutely fabulous with all that chocolate sauce and chocolate ice cream. I have to admit, there was a bit is a fight in the house when we had to decide on which flavour we were going to choose and eventually it came down to a flip of a coin. I am sure husband has probably snuck out and tried the chocolate when I've been away.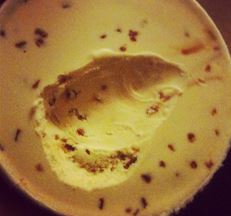 It is not easy to eat a whole pint of Haagen Dazs so I'm not surprised these are called "sharing pots". There is so much ice cream in each pint with the ice cream being such high quality that you simply have to stick to just a part of a pot, replacing it in the freezer for later. The ice cream doesn't melt quickly so it is safe to scoop out or eat it straight from the pot.
But here am I telling you all about it when you could experience it for yourself! I'm defaulting to Rafflecopter here because it is easier for me. To be in with a chance to win, leave a comment over 10 words long which describes a moment in history as an ice cream flavour and explain why. For example, I would pick Hapshetsut's ascension to the throne of Egypt as the first woman pharaoh (she wore a false beard even) as a caramel ice cream with caramelised hazelnuts enrobed in chocolate because she might have had a surprise hard core but she was also sweet to her people. In addition to leaving a comment (you must leave a comment to enter to win and it must contain the historical scene, the ice cream description and explanation as to why), you can also enter by tweeting "I've entered to win a case of @haagendazsloves ice cream with @mostlyaboiutchoc here: http://bit.ly/ZOVGFQ" after leaving your comment, liking the Mostly About Chocolate facebook page and following @mostlyaboutchoc. Remember, you must leave a comment to enter to win and the comment must be over 10 words, include the historical moment, ice cream flavour and explanation.
Good luck everyone! Terms and conditions after the widget:
Prize Terms and Conditions
Closes at midnight on the Rafflecoptor clock (see widget) on 4/May/2013.
18+. UK (excluding Northern Ireland) only. NPN. Random draw. 1 entry per person. Promoter: Mostly About Chocolate Standard Competition T&Cs apply.
·         One winner will receive one case of Häagen-Dazs Secret Sensations Chocolat Fondant or Crème brûlée in a pint (8 x 500ml). Only successful entrants will be contacted. .
·         The prize will be delivered via courier to an address located on the mainland UK (excluding Northern Ireland), Delivery will be organised by Häagen-Dazs within 4 weeks of winning. Any goods that are damaged, or lost in transit, are not at the responsibility of Mostly about Chocolate or Häagen-Dazs.
·         The prize is non-transferable and no cash alternative will be offered. Should you not be available to claim prize you will not be compensated by Mostly about Chocolate or Häagen-Dazs.
·         This competition is restricted to residents of the United Kingdom (excluding Northern Ireland), aged 18 years or over, excluding employees of Mostly about Chocolate and Häagen-Dazs, their immediate families, their agents or anyone professionally connected to the competition. Proof of eligibility must be provided on request.
·         Mostly about Chocolate reserves the right to cancel this competition or to alter these rules at any stage, if deemed necessary in its opinion, and/or if circumstances arise outside of its control.
·         To the extent permitted by law, each entrant releases Mostly about Chocolate, Häagen-Dazs and their associated agencies from any and all liability, damages or loss incurred in connection with this competition including the redemption and use of any prize.  Nothing in these terms shall exclude liability for (i) death or personal injury as a result of negligence; (ii) fraud or fraudulent misrepresentation; or (iii) any liability that cannot be limited or excluded by law.
·         Data will be captured Mostly about Chocolate and will not be shared with any third parties