January 27, 2012
Haagen Dazs Sweet Sensations Ice Cream Review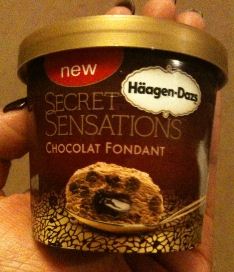 I was lucky enough to be part of the Haagen Dazs tasting club. Not only does this mean I can pop in to the Leicester Square location and get the VIP treatment (one free ice cream per day) but it also means I get some sweet treats sent to me.  This time, it was some new Haagen Dazs ice creams and shockingly I liked the non-chocolate one better.  I know – SACRILIDGE!
According to the PR bumf, Häagen-Dazs just got a little bit saucier, launching its new Secret Sensations range with two truly indulgent flavours: Chocolat Fondant and Crème Brûlēe. Now, I don't know if they will do more but it is definitely an interesting move. Husband is still waiting for them to release coffee here too…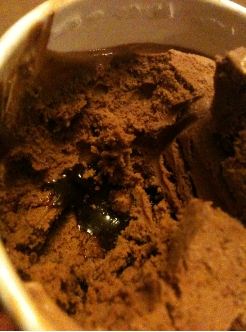 Secret Sensations is, apparently, the ultimate indulgence. Inspired by two of the world's most decadent desserts, they combine delicious, creamy ice cream with a 'heart' of rich sauce. I actually had trouble finding a specific 'heart' of gooey sauce in the chocolate but there was a lot of chocolate inclusions. The sauce hidden within all Häagen-Dazs Secret Sensations mini cups, has apparently been created using patented technology and they say that this represents a true innovation in the luxury ice cream market. As a girl who has had central shafts of gooey liquid sauce before, I'm not sure…
They think that chocoholics will adore Chocolat Fondant, a blend of delicious chocolate ice cream with soft brownie pieces, surrounding a rich chocolate sauce centre and it was yummy.  The brownie pieces were not too large and really given my experience I didn't expect to like the Crème Brûlēe and assumed I'd dislike it do didn't take pictures.  I was wrong.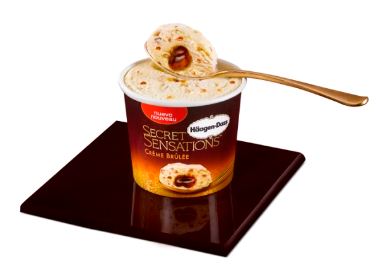 The  Crème Brûlēe Secret Sensations combines smooth ice cream with small, crunchy caramel biscuits pieces and a smooth caramel sauce centre.  This was awesomeness. I just loved it and could have eaten another one but husband had already eaten the other one of the box 😮
All in all, shockingly I liked the Crème Brûlēe best but the chocolate was really lovely as well. I've been waiting for them to come in to my local Sainsbury's so I can get more!