January 26, 2012
Mast Brothers Crown Maple Review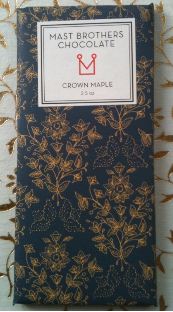 Mast Brothers in Brooklyn New York are one of a few new craft or artisan chocolate makers who are emerging in the US and trying to help pull the US palette out from the Hershey's gutter to new heights of refinement.  From the country which has brought us some of the most sought after 90-point wines, it is amazing that it has taken them so long to catch up with Europe but with Amano, Askinosie, Dick Taylor and others, Mast Brothers are among esteemed artisan colleagues.
I don't know what I expected when I bought this Mast Brothers bar but it was probably not what I got. I had just tried some smoked chocolate and knew I didn't want that but maple seemed more along my speed.  I thought it might be sweet and probably well rounded but still lovely. What I didn't expect was this bar…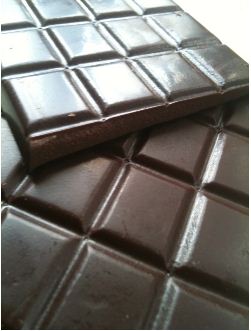 The smell has a volatile top note that reminds me of the smell I smelt on the porcelana raw beans I smelt at Pierre Marcolini's factory. That was am amazing visit and to smell that unique scent in his ganache meant I knew that he was not using anything but his own chocolate in his ganaches.
But Mast Brothers… It has a volatile top note that speaks of pure beans and it is a dark smell too and so I should have been prepared for what came next – but I wasn't.  The initial dark smoky chocolate almost tastes burnt but it isn't – it is simply an extremely dark chocolate profile. With a strong smoky flavour from the bean, dark acidity and woody notes, this isn't my choice for a chocolate I would keep in my handbag and eat as I might some Willies Cacao or Askinosie or even Soma.
I don't really get the maple until very close to the end. No sweet bar, this. This is an aggressive full frontal assault on your taste buds. I'm not a fan and while I can appreciate the intense flavours and the quality chocolate, it isn't one I'd buy again however you can buy one if this is your cup of tea ta Paul A Young and try it for yourself!