January 28, 2012
My Visit to Matcha Chocolat & Sneak Peek at New Chocolates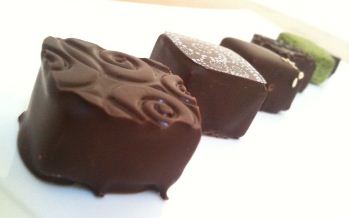 I live not too far from some of the most beautiful locations. Where I live isn't so great but everywhere else is, and that is true of the Matcha Chocolat production kitchen. The production kitchen at Matcha is set within some beautiful grounds in a lovely town. I was lucky enough to be invited over to try some chocolates.
Katie who runs Matcha Chocolat has been making chocolates for almost two years now. She started out combining some of the most delightful teas with chocolate and made some perfectly awesome chocolates. In fact, her plain matcha chocolate stays with me always. It was like milky sweet green tea I think… at least that was my lasting impression. I also fell in love with her jasmine which is not at all synthetic but delightfully floral. Not only that, but the earl grey was subtle and perfect. Not like an over-brewed cup of builders tea (I make my cup with 2 tea bags) but a delightfully light and perfectly citrus earl grey. But I digress.
I visited Katie and got to try some of her new creations which were delicious. I especially liked the Vietnamese cinnamon. For some reason the cinnamon here in the UK is nothing like what I used to get in Toronto and I finally realised why when I visited Matcha Chocolat – the cinnamon used here in the UK is from a different country and is just not as good. Katie uses a delicious cinnamon that is sweet and strong and delightful. If you're a fan of real cinnamon then you're going to want to buy yourself a tin of these. Katie says: Vietnamese Cinnamon – Single origin dark chocolate from Madagascar blended with Vietnamese cinnamon. Dipped in dark chocolate and decorated with a swirl patterned, textured motif. Great Taste Award winner 2011.
The jasmine… oh but the jasmine is divine. Whether encased in sweet white chocolate or enrobed in dark, the jasmine that Katie uses whether silver needles or jasmine from the Canton tea company is divine. I love Katie's jasmine and her jasmine silver needle. I could live on her jasmine chocolate. It is absolute bliss. Katie says: Jasmine Pearls – Single origin dark chocolate blended with jasmine green tea. Dipped in dark chocolate and decorated with a white swirl motif. Great Taste Award winner 2011 and Academy of Chocolate Award winner 2011.  Note: This chocolate uses an exceptionally unique single origin dark chocolate made from cocoa that has been harvested from wild cacao trees deep in the Amazonian rainforests of Bolivia.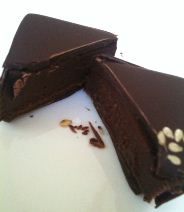 Chestnut & Japanese Whisky – Single origin chocolate from São Tomé blended with chestnut puree and Yamazaki 10 yr single malt whisky. Dipped in dark chocolate and topped with toasted sesame seeds. Wow! I loved this because the whisky wasn't too strong and because it is more of a floral and sweet whisky, it is really nicely complimented by the chestnut and it is something like bliss in smoothness. I could have eaten more!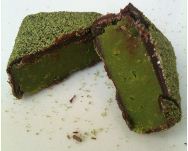 Matcha & Pistachio – White chocolate blended with pistachio paste and matcha green tea. Dipped in dark chocolate and covered in a dusting of vibrant green, sweetened matcha tea. An unexpected favourite! I loved the sweet crunchy matcha tea and  sugar light coating hiding excellent chocolate and lovely surprisingly delightful ganache within! I didn't expect to like it and yet I could have eaten a box. Perfect balance of flavours, chocolate and sweetness.  More please!
Cardamom & Banana – A sweet and spicy blend of banana puree, cardamom and dark chocolate. Great Taste Award Winner. Now, I expected to have to be polite with this one and leave part behind. Really I did. I mean, how crazy are these flavours but by all that everyone believes in I swear that this is a delicious flavour combination! Why the heck no one has done this before is beyond be. The cardamom and the banana don't war with each other and yet are distinct while still combining to create something delightful. You MUST TRY THIS NOW!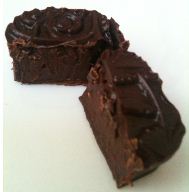 Yuzu – Single origin dark chocolate from Madagascar blended with yuzu puree. Dipped in dark chocolate and decorated with a floral patterned, textured motif. This is probably the first chocolate ganache which I have felt really captures that yuzu flavour. All too often chocolates fall short and yet here comes Katie and she absolutely aces it. I don't know how she does it but this is a triumph and I hope it gets entered into competitions for awards!
All in all I had the most amazing visit and the best part is I'm going back again tomorrow to try some more!