July 24, 2013
Moose Maple Butter Reviewed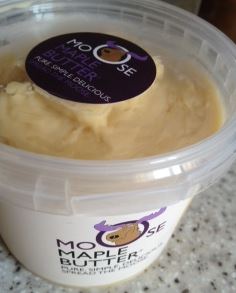 As a Canadian, there are few words I like hearing next to each other than "maple" and "butter". To a Canadian this is a purely sugar confection of whipped maple syrup which is made into a creamy paste, light in colour and 100% sugary sweet in taste. To a Canadian there are no dairy products in maple butter… but in the UK things are different.
The Moose Maple Butter people are working hard to make the term "maple butter" mean exactly that – butter with a sweet maple edge. It's an interesting concept to me and so when I was offered a pot to review I could hardly say no. To say no would be un-Canadian!
I received the pot of actual butter with maple syrup whipped into it from the woman who runs the company and makes it herself. The pot was unassuming and I had no idea of what to expect. So I decided to do a taste test on a bit of hot toast – the way breakfast should be regardless 😉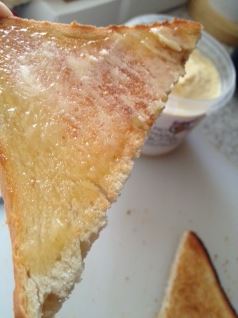 This maple butter is strong – in fact it is so strong it was hard to believe it was just butter with maple syrup in it. The distinct flavour of the maple syrup came through over the butter and made my slice of toast just like a slice with the whipped confection on it – but without all those sugary calories.
This was also perfect for husband who is diabetic. He can enjoy this butter now and get the full hit of the maple butter flavour without the high amount of sugar he usually gets.
I have to admit, I did slather the butter a bit and I did go back for seconds… and thirds… but that was because it was absolutely delicious. Buttery without being too overwhelming and maple-y without all that sugar. PERFECT!
You can buy yourself some of this maple butter (as in butter with maple) at The Petal Pusher and visit The Maple Moose Online