July 23, 2013
Lindt & DeLonghi Chocolate and Coffee Pairings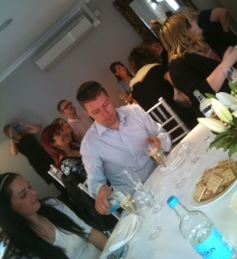 I'm a huge fan of chocolate (as you all know) but I also enjoy coffee. I'm more of a fan of the newer coffees which are roasted to bring out more of the flavours of the beans as opposed to the over-roasted, burnt notes that too often come through in some coffees. I was quite pleased therefore to be invited along to an event pairing two things I really enjoyed together – coffee and chocolate. Of course you're already checked out the Chocolate  Wine pairings created with Lindt and Waitrose wines – all unbranded so you can pick whatever you'd like.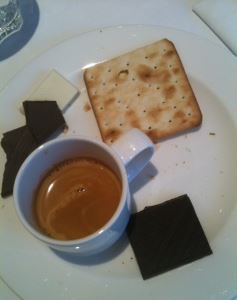 Coffee and chocolate has the added benefit of the coffee melting the chocolate. We were given coffee to try on its own, chocolate to try on its own and then we tried the two together in our mouths. The key to this technique is to relax, have the coffee plain and not too hot and just allow yourself to taste things through your nose, then between each tasting have a spot of room temperature (or even slightly warner) water and maybe a but of plain cracker. That will keep your palate clean and help you taste more clearly.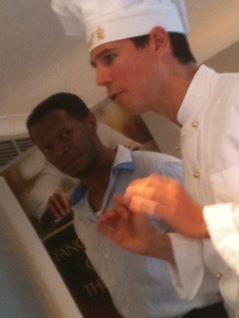 While the actual pairings were created by the DeLonghi and Lindt people themselves, you can take these pairings yourself and use the guide to have your own pairing party! But maybe on a Saturday afternoon or you might not sleep… 😉
Lindt EXCELLENCE White Vanilla paired with Ethiopian Yirgacheffe long black – the sweet berry fruit from this coffee bean comes through to perfectly compliment the decadent sweetness of the vanilla.
Lindt EXCELLENCE Extra Creamy Milk Chocolate paired with Brazil Fazenda Passeio long black – this coffee is full of chocolate, toffee and caramel tones, and amplifies the Lindt EXCELLENCE Extra Creamy blend of the chocolate. It is the perfect companion for the chocolate's exceptionally rich honeyed melt and gentle floral caramel character.
Lindt EXCELLENCE Dark Chilli paired with Burundi Ngozi Murama long black – this is a complex coffee, with a spicy, almost tannic quality. The result of pairing with Lindt EXCELLENCE Dark Chilli is akin to a spicy meal, cooled by a rich red wine. For added taste perfection, wait for the chilli to bite before taking a second sip of the coffee.
Lindt EXCELLENCE Orange Intense paired with Bolivia Copacabana long black – the citric notes of orange, mangoes and peaches make the chocolate's candied orange and almond notes come alive for a wonderful morning treat. For an evening rich experience: Sumatra Takengon long black – a bold, smoky coffee, reminiscent of a freshly rolled cigar. The hints of leather and spice react well with the orange and citrus notes.
Lindt EXCELLENCE Dark with a Touch of Sea Salt paired with Brazil Cerrado Decaf espresso – this coffee boasts its own dark chocolate tones, which react in harmony with the cocoa solids in the chocolate bar, revealing a slight sea salt aftertaste. Best served as an espresso.
Lindt EXCELLENCE 70% Cocoa paired with Brazil Cerrado Decaf espresso – best served as an espresso to compliment this dark bar and its complexity of flavours. Take a small bite of chocolate and chew a few times. Then sip the espresso and continue to chew the chocolate. Coffee notes of plum, raisin and brown sugar work to sweeten the cacao and provide a pleasurable sensation on the palette.
Lindt EXCELLENCE 85% Cocoa paired with Sidamo Blend flat white – best drank as a flat white when paired with this bar's deep cocoa characters, hint of vanilla and deep tones. With its bergamot orange sweetness, this blend counters the intensity of the cacao, whilst the nutty aftertaste provides a rounded mouth feel.
Lindt EXCELLENCE 90% Cocoa paired with Sidamo Blend caffè latte – take the caffè latte and chew the chocolate as you drink.  The milk content in this milder coffee combined with its orange sweetness produce a melt -in-the-mouth feel, which helps to soften the rich cocoa character of the chocolate.