July 22, 2013
The Chocolate Lab at Trump Towers Toronto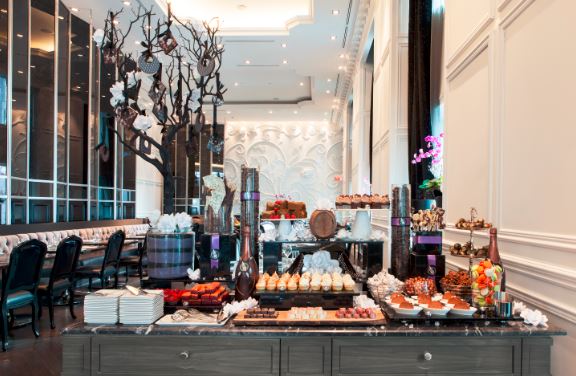 There are few words in the English language which, when placed in consecutive order can elicit as strong a response in me as "chocolate" and "lab". The others are "free" and "champagne" and "lottery" and "winner" but you know, the most likely is the first so it was with great pleasure that I popped down to the lovely restaurant called STOCK Restaurant Bar & Lounge in Trump International Hotel & Tower Toronto.
Toronto is, not surprisingly, a tourist destination for a lot of Europeans. In fact, people from the UK make up 10% of the visitors to Trump Toronto. Posh lot, us! While I was in Toronto, TBEX was also happening, meaning I had to constantly explain I was not in town for the bloggers conference even though I was a blogger :-/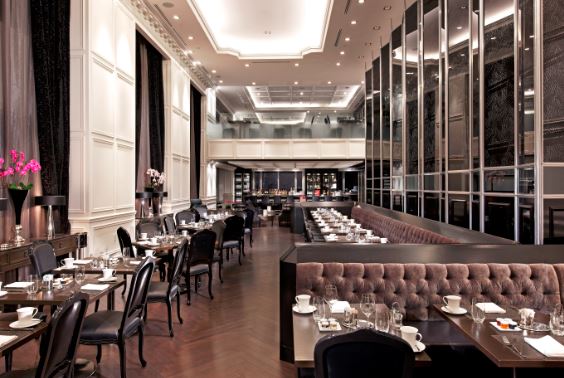 Amazingly, I spent 4 hours at the restaurant, chatting with the social media co-ordinator all about Trump Toronto, STOCK Restaurant, the chocolate lab, how they created their amazing wall decoration and more. It was an absolutely amazing day and I just missed the Cakebread wine tasting who, ironically, my dad and step-mother both know. Small foodie world and I was told off for not introducing myself (whoops).
My visit started with an amazing black cod which was absolutely delightful but it was the chocolate I was there to try. After meeting the General Manager of STOCK  Mickael Damelincourt and the head chef which was absolutely amazing, I got to meet Reiko Stewart the pastry sous chef. She was busy preparing for an extremely exclusive event that evening but took time out to talk me through the chocolate lab, what they are doing and where they are going.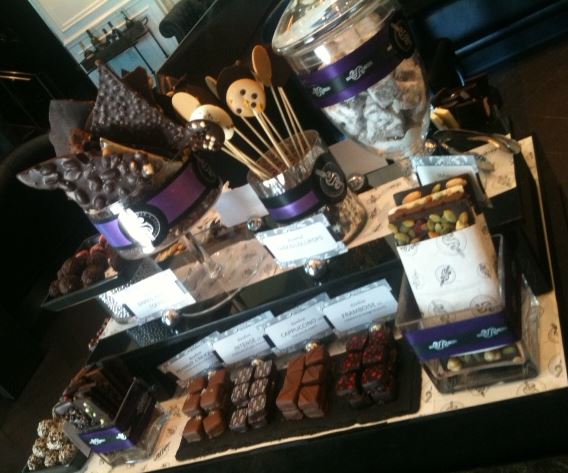 The chocolate lab is a concept which may seem a bit conservative to someone like me, but of course for Toronto it is quite advanced. There are a number of creations from the delightful ganache truffles through the flavoured bars to the absolutely edible (because they are made with Valrhona chocolate) chocolate shapes, everything that is made in the chocolate lab is of the highest quality. Narry a stray bubble in their bars, perfectly coated ganache and cleanly finished domes are on a table festooned with chocolate lollipops and all sorts of delights.
My platter of chocolates was chosen for me by Reiko and each one was different and delightful. What stood out for me, perhaps because we just don't get it over here, was the cola chocolate truffle. A large dome of chocolate, the cola flavour actually overwhelmed the flavour of the chocolate and the popping candy added the fizz. For the novelty fact alone I loved this but as a chocolate it was delightfully innovative. I absolutely loved it.
The other ganaches were expertly executed with everything from coffee or vanilla to peanuts or chilli. The ganaches were just challenging enough to make them interesting and different and possibly something quite different for the Torontonian palate. There were also chocolate lollipops with crystallised flowers, nuts and popping candy and I was pleased to see them using the new Dulcey from Valrnona.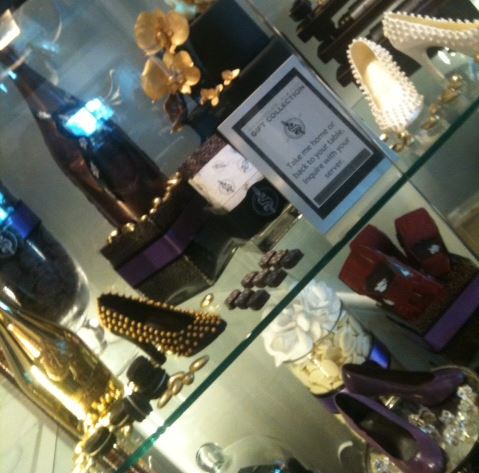 Beyond the delights of the chocolate lab, I learned that STOCK Restaurant chocolate lab regularly creates shapes from Valrhona chocolate including flying pigs for a Pink Floyd party. That's what I call awesome! More places should make shapes from quality chocolate. I also learned more about Trump Toronto beyond their amazing cod and their delightful chocolate lab.
Trump Toronto has one of the most diverse clientele I thought possible. They have a hotel *and* a condo complex *and* you can buy a hotel room and rent it out when you're not using it. The decor is extremely luxurious and yet while it is white gloves service, you never feel suffocated. I'm not a white gloves service kind of gal. I'm heartily middle class and I get really uncomfortable when people make too much of a fuss of me. Trump was the perfect balance of luxury and being put at ease. I never felt like using the wrong fork would earn me a disapproving look from my host (though my most amazing waiter did admonish me to eat my food before it got cold as we were so busy chatting).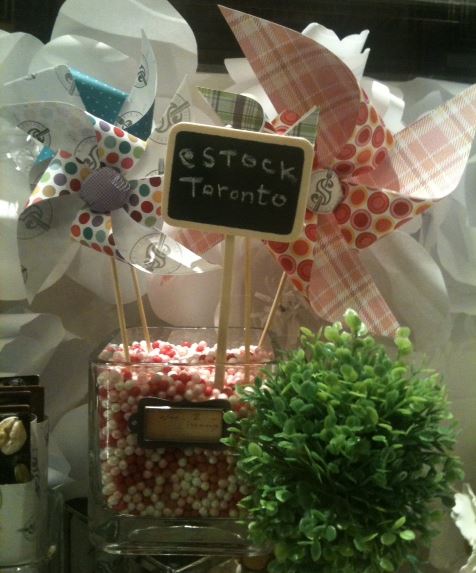 They want guests to feel comfortable and at ease and sacrificed a diamond in their restaurant to achieve it. They place the emphasis on helping the patron whether it is a once in a lifetime or a once a day affair. They have this principle of "modern luxury," where guests feel like they can  enjoy an opulent dining experience without the stuffy and snobbish environment. They want people to feel like they can come in a big group or an intimate table, and truly enjoy themselves, not worrying about which fork to use or if they are laughing too loudly. They do indeed treat everyone the same – extremely well without smothering. Even the Quartz Crystal Spa is luxurious and interestingly very unisex. In fact, I think they mentioned the spa currently has more men than women going. Power women not taking time or wealthy men realising you do need to care for your skin?
If you want to try something more amber than chocolate, SUITS Lobby Lounge downstairs has one of the most excellent, extensive collections of amber tipples I've seen for a while. You simply have to experience it 🙂
Whether you visit STOCK for dinner, lunch or cocktails, you're pretty much guaranteed an excellent experience.