July 26, 2013
Crabbies Alcoholic Ginger Beer Reviewed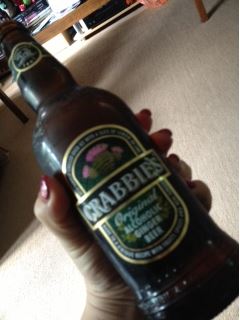 I love Crabbie's, as does my husband. We've tried others but we keep coming back to Crabbie's. We first discovered it when I was able to bag a glass of it at a food show. I loved the fake 50's look of the advertising, the tongue-in-cheek approach to everything but most of all I loved the taste.
I went to the website to see if I could find out more about this delicious, refreshing drink that husband and I ensure we always have at least two bottles of on hand. The website said that the ginger beer is made from a secret recipe – apparently it has 4 top secret ingredients. They combine the secret ingredients with steeped ginger, which they still ship all the way from the Far East, just as the first Scots Merchant Adventurers did which is why they have an Elephant Trademark on their bottles.
At Crabbie's, they say that they do things by the book – whatever that book is. The ginger in Crabbie's is apparently (so they say) steeped for up to 8 weeks to produce its spicy flavour – but it isn't as spicy as some I've tried. Interestingly I find the spiciness of the ginger beer not very harsh and I assume that is partially to do with the secret ingredients. I also find it to be slightly sweeter than some I've tried.
The bubbles are nice and small but there are lots of them. This makes it easier to drink and more refreshing. I like the balance of flavours, I like the sweetness which isn't too much and I like the marketing. I think that in a straight fight against the Famous Grouse Ginger Beer, Aldi and others I haven't tried yet that Crabbie's would win hands down 😉