November 30, 2014
Mocha Coffee Cupcakes Recipe with Chocolate Coffee Beans
Husband loves his coffee so when I ask him what he wants he always asks for coffee cupcakes. These are his favourites with a bit of a twist to make them a little bit more exciting – coffee flavoured chocolate shaped into little shapes to make them look like coffee beans! I bought the bag I used from Rococo in London but there are several places selling them.
Makes 12 cupcakes of around 53g each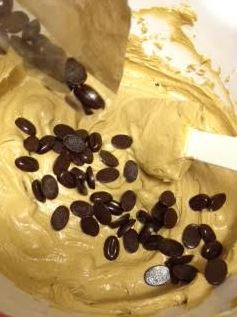 Ingredients:
150g unsalted butter at room temperature
150g caster sugar
175g self raising flour
Pinch of salt
3 eggs to room temperature
1 tsp vanilla extract (real stuff – not the leftovers from papermaking)
2 tbsp. instant coffee dissolved in 1 tbsp. boiling water (use a little whisk)
100g chocolate coffee beans (not chocolate covered coffee beans) – hold back 12
Preheat the oven to 180C (160C for a fan oven like mine) and line your muffin tin with 12 paper cases
Beat the butter and sugar together until light and fluffy
Add the eggs to the butter/sugar mix one at a time, beating the egg then incorporating it into the mix as you go
Add the vanilla to the mix and blend well
Sift the flour carefully into the mix a little at a time and alternate with the coffee a little at a time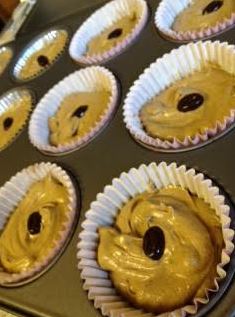 Fold the chocolate coffee beans in at this point, holding 12 back to top  your cupcakes with
Now divide the mix between the cupcake cases. I used around 53g of mix per cup.
Place a single chocolate coffee bean on the top from the 12 you held back to top each cupcake with one now before baking.
Bake in the oven for 15-20minutes until cooked. My fan oven took 18 min to get a nice even bake.