December 1, 2014
Eight Aldi Christmas Cocktail Recipes
So a lot of you will know of my love for Aldi. Despite having to drive to Oxford, I am a fan of the quality of their products, their use of some local suppliers and focus on quality over quantity. Their wine buyer, even though I have given him a hard time over some of his choices on Twitter, seems like he was really passionate about getting a good deal for Aldi.
If you check my reviews of the BRANDY, CHAMPAGNE, PORT and other wines and spirits from Aldi, you'll be able to see that while not top-of-the range, they are absolutely delicious. If you want a Bailey's alternative, their IRISH LIQUER (oh hello – where has that review and the next disappeared to WordPress???) is really brilliant as are their pre-made IRISH COFFEE in a mug. Heat, serve and save the glass. I'm working on a full set but they didn't have it last time I visited 🙁
Here are some recipes which were provided kindly to me by Aldi. I hope to have their new Malbec review up soon and with luck more Christmas fayre. The Christmas in July wasn't quite as good for me as I was hobbling so I got to try some things but not everything. As always they have those amazing duck straws, multi-bird roasts and so much more. You'd be foolish to shop elsewhere for the Christmas meal but not all of us have Aldi's (Didcot is about to get one *SQUEE*)
I hope you enjoy!
Aldi's Bespoke Christmas cocktails
Santa's Trio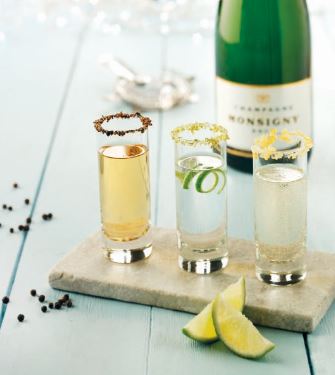 For something extra special to complement this traditional festive fayre and impress your guests, pair with this fun trio of Christmas mini drinks
Dasher
A fragrant and fruity shot with notes of heather and smoke from the malt whisky. The honey softens the otherwise powerful spirit and the pepper draws out all its flavours
Ingredients (per shot)
Glen Orrin Malt Whisky, 35ml
Honey, 1tsp
Black pepper corns, 1tsp, cracked
Methodology
1) Dip the rim of the shot glass into the honey and then into pepper to coat
2) Pour 35ml of whisky into the decorated shot glass to serve
Dancer
A bitter-sweet shot with notes of marmalade and a creamy texture from the rich Champagne
Ingredients (per shot)
Champagne Veuve Monsigny By Philizot & Fils NV, 40ml
Orange Liqueur, 10ml
Orange, 1 wedge
Candied peel, 1tsp, finely chopped
Methodology
1) Wipe the rim of the shot glass with the orange wedge and dip into the candied peel to coat
2) Pour 10ml of Orange Liqueur into the shot glass and top up with Champagne to serve
Prancer
A classic G&T in miniature, with juniper notes from the gin and zesty freshness from the citrus peel
Ingredients (per shot)
Oliver Cromwell London Dry Gin, 25ml
Tonic water, 25ml
Lemon peel, 1tsp
Lime peel, 1tsp
Methodology
1) Wipe the rim of the shot glass with the lime wedge and dip into the peel to coat
2) Pour 25ml of Oliver Cromwell London Dry Gin into the shot glass and top up with tonic to serve
The Mulled Emperor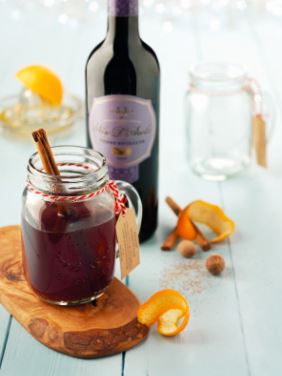 A supercharged mulled wine fit for an emperor-wine with plummy depth from the port and complexity from the aged brandy
Ingredients (serves 6-8)
Napoleon Brandy, 150ml
The Venturer Series Nero D'avola, 750ml
Fletcher's Fine Ruby Port, 250ml
Orange Liqueur, 50ml
Oranges, 2, juiced and zest cut into strips
Clementine, 1 whole
Cloves, 10
Cinnamon, 1 stick
Nutmeg, grated
Sugar, 4 tbsp
Methodology
1) Stud the clementine with the cloves and pour all the liquid ingredients into a large saucepan
2) Bring to the boil then turn down the heat to a simmer before adding the studded clementine, nutmeg, cinnamon stick, orange peel and sugar to the pan
3) Simmer for 20 minutes, or until the flavours are fully infused and pour into a shot glass to serve
Festive Fruit and Nuts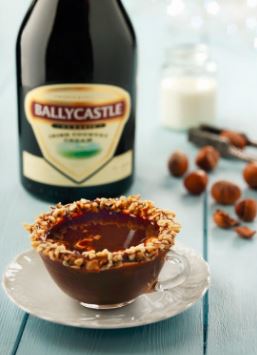 A decadent, grown up hot chocolate with nut and raisin notes from the sherry and wonderful richness from the Irish cream
Ingredients (serves 6-8)
Choceur Rum and Raisin Milk Chocolate, 400g
Caversham Cream Sherry, 350ml
Ballycastle Irish Cream Liqueur, 250ml
Full cream milk, 750ml
Raisins, 1tbsp, soaked in sherry
Hazelnuts, 1 tbsp, chopped
Cocoa powder, 1 tbsp
Methodology
1) Chill a small teacup in the fridge
2) Soak the raisins in 10cl of sherry
3) Melt the chocolate slowly in a glass bowl over a saucepan of simmering water
4) Dip the rim of the cups into the chocolate and then into the nuts, before placing in the fridge to chill
4) Put all liquid ingredients into a large saucepan and stir in the melted chocolate
5) Heat gently until the liquid is bubbling (but do not boil) and serve in a small teacup with a dusting of cocoa powder and a few sherry soaked raisins
Cramaretto Pine Sour
A rich and almondy drink freshened with sour cranberry juice and given an unexpected Christmas twist with a pine needle rim
Ingredients (for 6-8 cocktails)
Cranberry juice, 500 ml
Vodka, 250ml
Amaretto, 125ml
Freshly squeezed orange juice, 50ml
Pine tree (2 sprigs, 1 finely chopped)
Orange, 1, cut into wedges
Clementine, 1
Ice cubes, as required
Methodology
1) Mix liquids and one sprig of pine in a jug. Cover and chill until ready to serve
2) Chill martini glasses in the freezer for approximately one hour before serving
3) Place chopped pine needles on a flat surface and with the orange wedge, wet the rim of the martini glass and dip into the pine needles
5) To make two drinks: fill cocktail shaker with ice cubes, pour in 200ml of the mixture, cover and shake vigorously
6) Strain into two martini glasses and garnish with clementine zest
Sweet or Savoury Cranbellini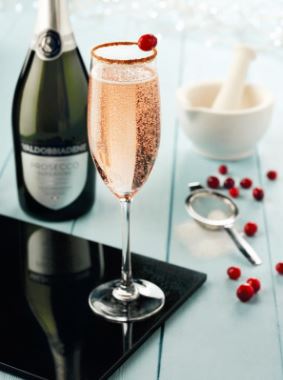 A light and refreshing cocktail with the distinctive sour bite of cranberry and soft bubbles of Prosecco. Sweet and savoury alternatives depending on your taste
Ingredients (per cocktail)
Prosecco Superiore Valdobbiadene NV, 75ml
Cranberry juice, 25ml
Fresh cranberries, punnet
Savoury
Fresh sage, 1 leaf finely chopped
OR:
Sweet
Icing sugar, 1tsp
Mixed spice, 1tsp
Sugar syrup / icing sugar, 1tsp
Methodology
1) Chill Champagne flutes in the freezer
2) Fill a cup with cranberry juice
3) Place chopped sage on a flat surface
4) See 4a and 4b
5) Fill the bottom 1/4 of the glass with cranberry juice and top up with Prosecco
6) Simply pour into the Champagne flute and garnish with a cranberry cut half way through and pushed onto the rim of the glass
4a) For a savoury cocktail, dip the rim of the chilled glass into the cranberry juice, then into the chopped sage leaves to coat
4b) For a sweeter option, dip the rim of the chilled glass into the cranberry juice, then into the icing sugar. Dip again in the cranberry juice, then into the mixed spice. Mix the cranberry juice with sugar syrup.