September 9, 2011
Kokoa Collection Hot Chocolates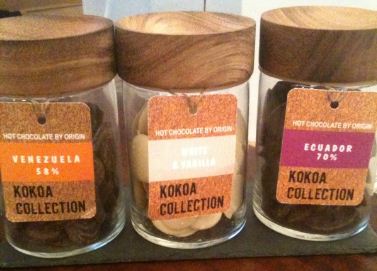 I had the very special honour and pleasure to meet the genius behind this new coffee shop hot chocolate.  Kokoa Collection is attempting to bring proper hot chocolate to our local independent coffee establishments.  Long have I scorned these hot chocolate in coffee shops as powdery and low quality (although at times fun with whipped cream and chocolate bits!) and Kokoa Collection is precisely what I feel is needed.
Using small disks of chocolate, this real chocolate sold by origin is added to steamed milk, whisked, and in an instant faster than I thought possible you get an actual gourmet hot chocolate.  Now, while this is sold with terms such as "white" "milk" and "dark" with a mention of origin, what we have here is an extraordinary hot chocolate made with different percentages of chocolate.
I'm going to sound very gushing in this review and it isn't because I was fed 3 cappuccino cups of hot chocolate.  It is because you experience some of the best that a bean has to offer despite this being a hot chocolate.  The hot chocolate is delicious and develops and changes from the chocolate eaten 'raw'.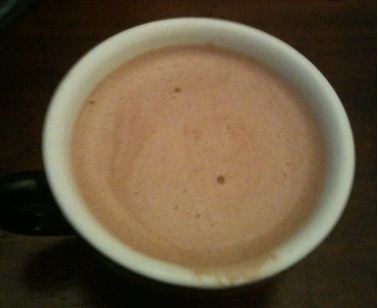 I started with the 58% Venezuelan. This was a delightful chocolate with interesting slightly fruity notes that I really enjoyed.  It was lovely and I have to admit it was really extremely typical of chocolate from this region.  It still retained its distinctive flavour and yet was a hot chocolate – BLOW MY MIND!  They called this a "milk chocolate" because of the lower cocoa content but it has no added milk – it's just lighter and sweeter.  I'd eat the chocolate on its own and I'd for sure buy this as a hot chocolate!
I then moved on to the Ecuador 70% which was AWESOME.  It was everything I love in an Arriba Nacional bean and yet it was a hot chocolate.  There was my delightful fruit intense and washing through my palette and yet something more woody and herbal was struggling just though where usually it would be overwhelmed by the chocolate.  Unbefuckingleviable!  This is a premium hot chocolate and I can't wait to be able to buy this in my local coffee shop.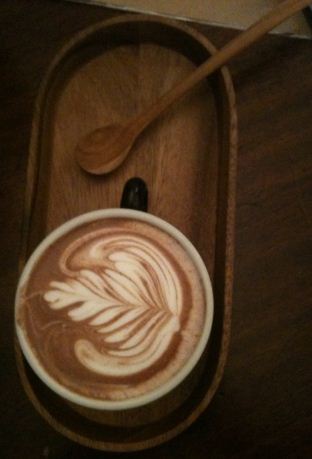 I then tried the Madagascar 82% and after the Ecuador this was awesome.  The red fruits were explosive – even more so than the Madagascar and the rich chocolate brownie flavour was absolutely perfect.  It was still sweet enough to enjoy and yet the chocolate had an intensity of flavour that I can't imagine you'll find anywhere else.
This hot chocolate was divine.  I hope that it is sold somewhere I can buy it again soon.  I think they are going to have home packs and I have some more samples to try but I will be GUTTED if I am unable to buy a LOT more and regularly in a coffee shop.  This was amazing and I wish I could share how amazing it was with everyone in more than just words.  I hope that you can see from the descriptions that this is one of the best hot chocolates I've had since Soma and since it is completely different to Soma it is the same kind of awesomeness.  This is a quality hot chocolate which is such high quality it is in a class of its own.  It's on par with the hot chocolate from Askinosie (when they did chocolate drop hot chocolate) and exceeds most others I have tried.
I hope this is widely available soon – and when it is get some of each – you won't regret it!