May 15, 2014
Joe & Seph's Boozy Popcorn Reviewed – Gin & Tonic, Cosmopolitan, Margarita & Mojito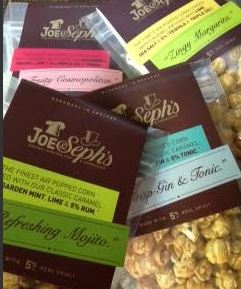 I do love popcorn. The light, crunchy, fluffy nature of it having come from something so small and hard is brilliant. I often wonder how long it took people to figure out that it popped from dried and how exactly that discovery happened – much like chocolate. At what point did they realise the potentially toxic seeds of the fruit could be *fermented* and dried then roasted and mushed to create something delicious. Humans – we will try and poison ourselves in the name of numnums.
Joe & Sep's has been reviewed on this blog before and with each review I discovered that I had a style of their popcorn that I preferred – the dry caramel coating that the maple pecal has in my favourite finish.  There's something about that particular finish that just makes it something special.
The flavours I'm trying this time are all boozy and include REAL ALCOHOL in them. Yep – that's right – no kids are allowed this caramel popcorn. It is an adults only thing. Each flavour though was quite unique and flavourful. They weren't simply dull and boozy as you can get with some cocktail things – these were packed with flavour and bozy (but not that you could taste really).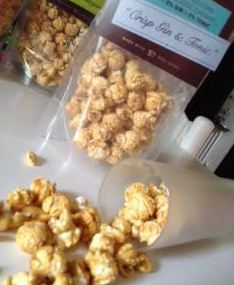 Gin & Tonic – the classic British drink. This popcorn was probably lauded more than any other by people on Twitter. More people than any other flavour commented that they love the G&T flavour of this popcorn. That's probably because, as boozy caramel popcorn flavours go, it was clean and fresh with a zippy kick of flavour. I really don't think you can quite taste the gin but what marks gin as such and not, lets say vodka, is the distinctive juniper berry flavour. That flavour does come through in the caramel. The flavour of tonic – that oddly interesting flavour which just tastes wrong without the juniper – is softened in this popcorn. The smell doesn't carry as much of the flavour but the pieces certainly do. They genuinely do start on tonic and finish on gin. Definitely moreish and delicious. Probably the cleanest of the flavours.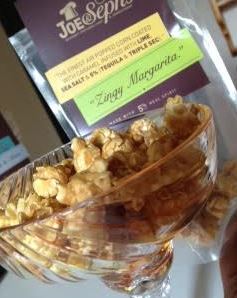 Margarita – Called "zingy margarita", this is meant to be a combination of lime, sea salt, triple sec and TEQUILA (because nothing spells trouble like tequila). Now, 5% real spirit isn't going to get you drunk but it is going to impart the unique flavour of the spirit on the caramel – even after the alcohol has burned off due to the temperature you need to make caramel at 😉 This was probably the one that was most suprising in flavour. The nose carries mainly the lime with some of the aroma chemicals of the booze. The corn itself has an immediate punch of lime with the salt coming pretty quickly then finishing off with the booze. This is probably a popcorn you want to have with a margarita or when you wish you were drinking a margarita. Bring the cocktail bar home with this one – PHEW!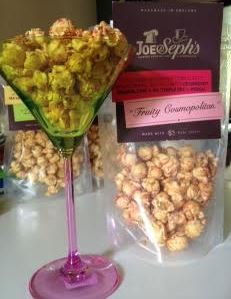 Cosmopolitan – every girl's friend, the fruity cosmopolitan is a take on the martini-style drink made extremely popular by Sex in the City but which has been a mainstay of women looking to forget their bad dates since it was invented. A drink with a slight pink blush, that colour has been through through to the popcorn with pink accents to the caramel. Cranberry, orange, lime, triple sec and vodka this time are in the usual 5% here for this popcorn. The flavour was interesting but not at all what I expected. The strawberry is like the strawberry and cream so it's quite punchy. The nose is soft with fruitiness but nothing too intense. The flavour is muddled (as ant good drink should be it has tangy citrus which is softened which blends well so that as the cranberry and booze start to come through, it is fairly seamless. A little sweet on the edge at times, this is an interesting combination of flavours. It would compliment the drink perfectly though. I can think of nothing fancier than an actual cosmo with a small delicate fancy bowl of this popcorn to the side. A chic treat at a bar.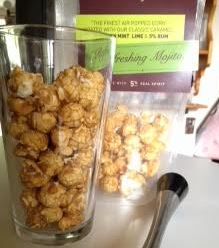 Mojito – I always save the best for last – unless I'm eating with my dad in which case I hide or wolf down all the best bits first. Mojitos are my favourite drink so I was really looking forward to trying this one. The nose is a weird minty smell – fresh with something else in there. Where I expected zingy lime first, you actually taste the garden mint first, followed by the zingy lime and then finished off by the typical taste of Jamaican rum. This is an extremely layred taste sensation and not as muddled as others. Is it better? I'm not sure but it is absolutely a distinctively layered experience. Would I want it with an actual mojito? I think possibly. But they are both sweet so I might overload a bit but really, who cares. If you're enjoying a cocktail *and* this popcorn, you're going to be in heaven 😉
Overall, these boozy popcorns are absolutely delicious and pretty faithful to the originals. BUY SOME ONLINE!