May 16, 2014
Soma Peruvian Chocolate 64% & Peru Cacao Nib Bar 67% Chocolate Reviewed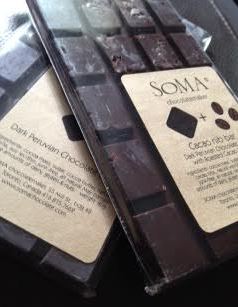 Lost for 100 years, rediscovered in Peru is a pure Nacional cacao with 40% white beans. It really is an unprecedented discovery for a country to find something so rare, but as cacao becomes a more valued commodity the value of quality cacao goes up and so discoveries are that much more worthwhile.
Peruvian cacao isn't my favourite but it is the most attuned to what people think chocolate should taste like, which makes the discoveries of new cacao there so much more important. This isn't necessarily made with this newly discovered cacao strain but it *is* made with a higher quality cocoa and that in turn makes a better quality chocolate.
Peru 64% Dark Chocolate Bar – Kinda weird… it started kinda flat and sweet and suddenly I get some smoke which I wasn't expecting. Perhaps a touch of coffee as well. There are no tasting notes so I don't know if what I'm getting is maybe because it was sitting next to a Papua New Guinea bar and took on some of the flavour notes. Obviously at 64% it is quite sweet and it is a fudgy chocolate. I think that if you're taking baby steps from milk to dark, you should buy this and give it a try. It's sweeter than other dark bars and not at all bitter. Nothing SOMA makes have been bitter when I've tried them and neither is this. It is sweet – closer to milk than dark 😉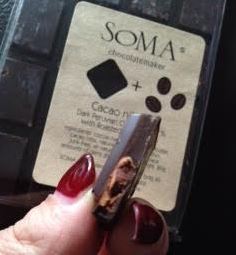 Peruvian Cacao Nib Bar – big nibs, sweet chocolate… it's like milk chocolate covered cocoa nibs only without any milk meaning anyone can eat them! The 67% is slightly darker but still sweet so it isn't going to be too bitter. There is no smoke meaning I think I stored the other bar next to another bar with smoke 🙁 But it goes to show the amazing fudgy flavour of the chocolate and the amazing richness of the beans. Those nibs aren't remotely bitter and this is a great way to get introduced to them!
If you'd like to buy some mostly you'll have to pop in to Soma but check their online store and maybe drop them a line and see if they'll mail order you some. VISIT THE SOMA SITE HERE.