December 17, 2013
I'm Dreaming of a Chococo Christmas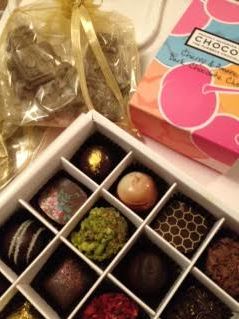 Just like the one's I used to dream of as well 😉 I mean, where else are you going to get CHOCOLATE ROBOT CHRISTMAS TREE ORNAMENTS!!! Seriously folks, stop whatever you are doing and BUY THESE NOW! Well, that is if you're a geek like me. If you're not a geek like me, you'll probably dig the angel who flies and swoops chocolaty goodness RIGHT INTO YOUR MOUTH!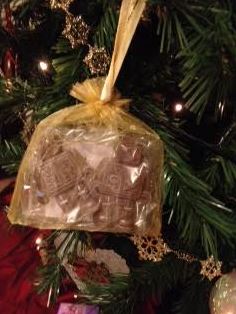 Ya, OK … I get a little over-excited at the holidays but come on people – gold gauze bags of chocolate joy! This is like the most wonderfully ideal thing to put on the tree high up out of the reach of children ever! Imagine how much their problem-solving skills will improve as they work out how to access the chocolate without getting caught. What will they put in the bag to disguise that they have taken the chocolate? Will they worry about the size to weight ratio or just use cardboard? How will they access the upper reaches of the tree without a ladder? It will keep them busy for hours, if not DAYS! But still – CHOCOLATE ROBOTS!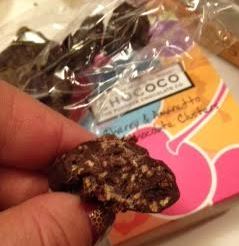 If chocolate tree decorations aren't your thing then what about slightly boozy chocolate blobs? The lovely clusters of chocolate with amaretto and cherries are lush. They are thick mounds of dark chocolate (which means less sugar!) that are studded with cherries and amaretto biscuits. As I hope you are able to see, there is a lot of crunchy biscuit and not too many cherries which suited me to a tee. In fact, I didn't notice the cherries at all in the piece I had and I loved that. The flavour was also delightful and I shared them with a client because I'm caring like that 😉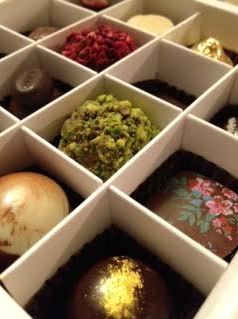 Of course, no Christmas feast would be complete without a box of the Chococo chocolate truffles, bursting with new flavours. Some of the favourites are still there so you can reference the flavours in one of my previous reviews like HERE but I just love that they are constantly changing things and mixing things up. The fresh new flavours mean that year after year there is something new in the box. I have to admit, my all-time favourite Chococo box is actually their ADVENT CALENDAR and while it may be too late now, I highly recommend it for next year. Still, this year if you buy yourself a box of these chocolates you won't be disappointed. Zinging flavours, bold as brass, with something for everyone. You will score some serious points with this festive treat!
Overall I do so really enjoy Chococo chocolates. I get given them through the year by Chococo but I've also received them as a gift and they are the ones that get hoarded and not shared.While these may have been sent by a PR my *squee* of delight at getting robot chocolates in a bag for the tree was not feigned as husband can attest, and I did hoard the box of chocolates to eat myself 😉