November 29, 2010
Chococo Chocolate Advent Calendar Review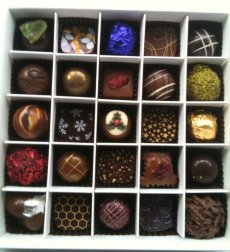 Chocolate advent calendars are not new but placing them all in a single box with a numbered paper overlay was new to me.  The path of chocolates takes you in a spiral towards the Christmas pudding in the centre.  Since it is the start of December on Wednesday, I thought I'd take one last look at a top-end advent calendar in an attempt to prove that it is worth spending a bit more to get an excellent chocolate selection.

December 1st starts with Mellow Mint.  Topped with a crystallised  mint leaf anhed boasting 3 gold start in the great taste awards, this domed chocolate has a ganache filling that is delicately flavoured with a green, fresh mint.  This is completely different from the usual peppermint filing and for me, is much nicer. Kinda sweet but pleasant.

Saturday Dec 4th sees us grabbing a Cinnamon Bliss chocolate.  This is a square ganache that has been infused with Sri Lankan cinnamon and dipped in milk chocolate.  The cinnamon comes straight through the milk chocolate making it smell delightful.  The chocolate itself is slightly strange as it is really sweet and so the cinnamon infused in the sweet milk chocolate is possibly not as nice as the mint.

Friday Dec 10th is a 3 gold star Blackcurrant Bramble square. This was delicious and definitely something you will be looking forward to.  I ate it so quickly even husband was surprised and I wanted more.  Remember – only one a day!

Sunday Dec 12th sees us get really sweet with the Bob's Bees chocolate. This is a local honey for Chococo coming from Robert Field and made into a dark chocolate ganache. Unlike the name, this is not a sweet chocolate. It is a delicious dark chocolate and very more-ish which is likely why it is a silver award winner.

Wednesday Dec 15th is Wild Thing – a kirsch-soaked griottine cherry in a dark chocolate ganache in a marbled chocolate dome. Despite this being a gold award winner, I didn't like it. The chocolate dome had softened which helped me eat it but the flavour was not great.

Monday Dec 20th sees us with the Chilli Cacao which is crushed roasted cocoa nibs and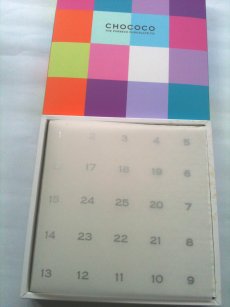 Mexican chilli in a dark chocolate square.  This was a praline square with a heavy chilli kick. Not my favourite because of the praline but I'm sure praline lovers will like the firm texture and extra chilli kick.

Christmas Eve gives us the Gingerbread Feast which is another praline but with a more subtle ginger, cinnamon and cloves flavouring.
All in all, the chocolates I did taste were mixed and that is exactly what you need in an advent calendar.  Everything is different and each day you are taken through a different flavour, different chocolate and different experience.  This is a higher quality advent calendar so why not grab a box now and start December off deliciously.