November 30, 2010
Cocomaya Winter Wonderland Christmas Shop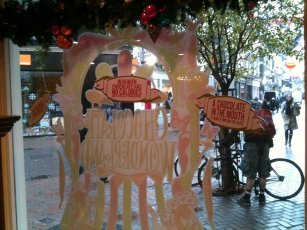 In Carnaby Street, just behind Liberty, too easy to miss, is this newest Cocomaya shop dedicated to Christmas.  I was lucky enough to go along to the press launch attended by the lofty heights of Elle and Sainsbury's and of course, star among stars, the Mostly About Chocolate blog 😉
As you can see from the images, this is a wonderfully fun shop with such delightful signage with whimsical messages.  How much fun must it have been to create this shop.  Though it looks like a popup shop only here for the holidays, I was assured by the PR people that it will be here for awhile.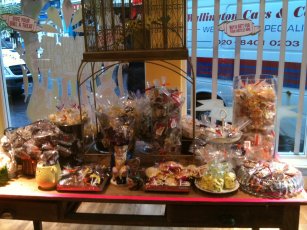 With chocolate nutcrackers, chocolate dinosaurs on a stick, chocolate pirates… errr… chocolate stars, chocolate fairies… chocolate everything really this shop is full of delightful looking chocolate.  Chocolate mice, a white chocolate and painted unicorn standing a full foot high and under glass takes pride of place as it should.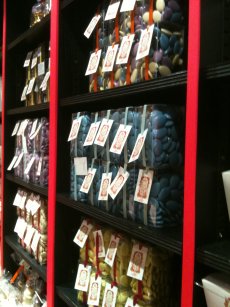 Unfortunately during the launch we didn't get to try any of the chocolate but we were given some to take away so I will be reviewing it.  This shop is full of delightful decorative designs along with brightly coloured dragees of chocolate. What could be more joyful at the holidays than chocolate coated in gold and silver?  Just so festive and so lovely on a holiday table – buy some and mix silver & gold in simple clear tumblers or champagne flutes. Add a holiday ribbon & on a table it looks like an expensive decoration which is also edible!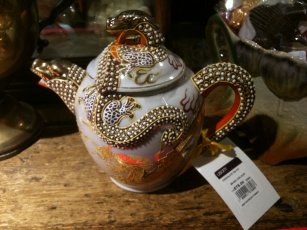 Would I shop here? I might get some unique gifts like this teapot (if I was rich) for £76 or this matching cup and saucer for £20 because I'd know no one else would be getting these gifts from anyone else.  So unique and so much fun I don't know where else you might be able to get something like this. Until I try the chocolate I won't know if I'd shop here for the chocolate though I'm reliably informed that Cocomaya create delightful chocolate.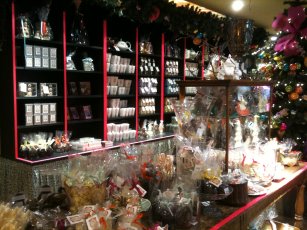 The shop was piled high with a lot of boxed chocolate and so I'm guessing it likely has some preservatives to give them a longer shelf life.  The shop was certainly packed to the rafters with chocolate of all types.  I'm looking forward to reviewing the chocolates we received to see what the chocolate is like.