December 1, 2010
Hotel Chocolat Milk Chocolate Tiddly Reindeer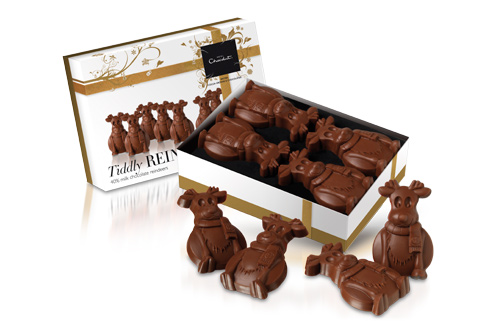 Milk chocolate shapes are nothing short of tons of fun and with Hotel Chocolat, you always know what to expect.  The milk chocolate is very nice, and Hotel Chocolat had created a number of milk chocolates to gradually introduce your palette to darker chocolate.  These reindeer, though, are just 40% milk chocolate fun!
You can be sure that when you buy novelty chocolate from Hotel Chocolat that you're always going to get quality.  Yes, we all love Lindt and Cadbury's but sometimes it is nice to indulge in a bit of a higher quality chocolate and why not have a bit of fun with it?  These high-quality milk chocolate reindeer shapes are a delicious treat at any party and kids young and old alike will love the opportunity to bite the head off yet another chocolate animal.
I mean, who doesn't like biting the head off chocolate animals, really?  Well, ears first at Easter but I never eat my bunnies tail first!  How would you eat your reindeer?