December 2, 2010
Chococo Christmas Novelty Chocolates Review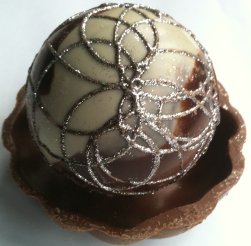 Christmas isn't Christmas without novelty chocolate and I was very lucky to receive some of the novelty Christmas chocolates on offer at Chococo.  These were absolutely delightful and really imaginative and each held a secret.
The first I had to try was the chocolate snow globe.  Now, this just could not be made with a clear top at any believable price.  Even a window would have introduced complexities at keeping the snow inside without adding a sugar window.  Yes – snow.  This is a real snowglobe with snow and a little snowman and a tree inside!  It was great when I cracked it open (press gently but firmly below the seam. Your thumb will eventually push through and the globe will open at the seam) and saw snow on the top in the chocolate and loose inside.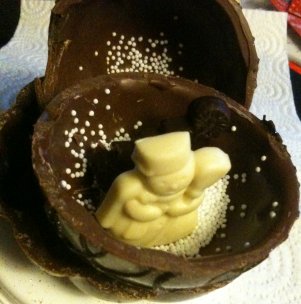 The chocolate was a bit sweet but this was just absolutely brilliant!  How much fun must it be to have this on the table and as a kid to get inside and discover sugar snow balls with a white chocolate snowman and a dark chocolate tree?  Magical.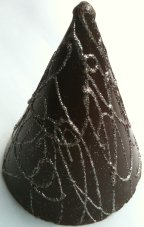 The next treat was this really cool chocolate Christmas tree.  Just looks like a plain tree, right?  WRONG!  Look underneath and you'll see mine is dark chocolate studded with cherries and cocoa nibs and it comes with smarties or other delights inside.  How special is this silver glitter covered tree with its secret inside?  This would be a delightful treat to get on Christmas or before.  But maybe forget it in the cupboard and eat it later… 😉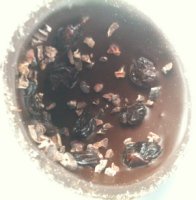 The chocolate was nice – not too sweet and not bitter.  I didn't like the nibs as much but the cherries were sharp and they have other varieties so I'm sure you'll find something perfect.  These are just so much fun and so cool and the chocolate is very nice.
For novelty chocolate, this is really nice.  No more excuses for buying overly sweet, low quality novelty Christmas chocolate – get on the phone to Chococo and order some of these!