December 18, 2013
Food Thoughts Cocoa Powder Reviewed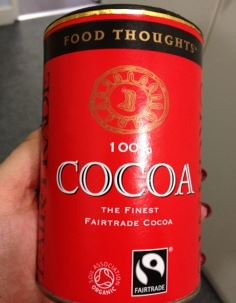 There are a lot of cocoa powders on the market and while I tend to default to Askinose, I've also used others. Food Thoughts sent me their cocoa to try and I have to say, I didn't keep my opinions to myself.
This was absolutely delicious cocoa powder. It had a rich deep flavour and it was the perfect unsweetened compliment to coffee and milk. Everyone at the office has started using it on their cereal, oatmeal, in their coffee and are making hot chocolate with it.
We've even gone so far as to throw out all instant hot chocolate made with water and we just have cocoa powder now.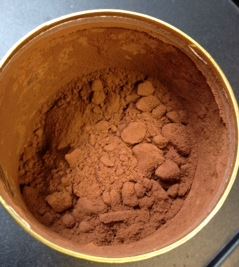 According to their website, "Food Thoughts Cocoa is a luxurious baking and drinking cocoa, made with the finest cocoa beans. It is rich and smooth in texture and has deep and rounded flavour preferred by bakers for its high cocoa fat content. Food Thoughts 100% Fairtrade Organic Cocoa is produced in the Dominican Republic by an accredited Fairtrade consortium, so every teaspoon of this delightfully delicious powder will make you feel good!"