December 6, 2011
Chococo Seasonal Selection Medium Box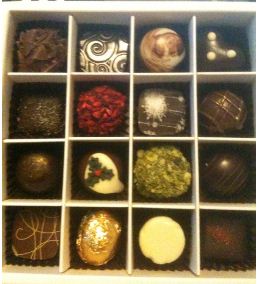 I was lucky enough to be sent one of these boxes by Chococo themselves. There are 16 chocolates of the season in here including some that are extremely intense, some that are subtle and some that are surprising!  There are plenty of award-winners in here so you know you're always getting something of quality.  I've chosen 7 out of the box of 16 to review individually but there seems to be something for everyone in here.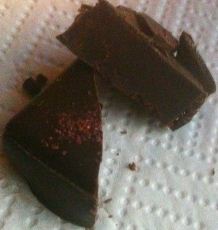 Mulled Wine – an instant favourite for me from the time I tried it at the Chocolate Unwraped event. The mix of flavours is delicious for me and I really taste those mulling spices as well as the red wine. Yummy!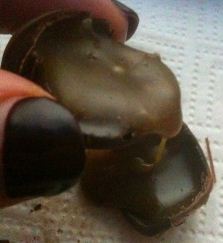 Salt Sweet Smoke – Cornish smoked sea salt muscovado caramel in a dark chocolate shell – heaven! There isn't too much smoky flavour here and so rather than overwhelming it enhances the experience and you just get oozing caramel nummyness!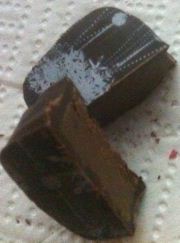 Gingerbread Feast – praline spiced with ginger, cinnamon and cloves – this one I'm split over. I wanted to love it but the praline fights with the spices a bit for me. Not that this isn't delicious but for me, I think others are much more my speed.
Raspberry Riot – This doesn't match exactly the description for Raspberry riot and so it could be pink fizz. They are tart like raspberries and have seeds but there is no white chocolate. The ganache is clearly alcoholic but once I'm overwhelmed by the sour exterior I can't taste the inside and don't care. I love the tart explosion and the chewy seeds. This is a bit intense but perfect for me with the intensity, sour tartness and flavour.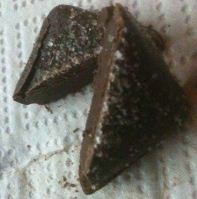 Fizzy duck – marc de champagne in dark chocolate dusted in sugar from Paraguay – this is what convinces me more than anything that I was eating a raspberry riot as it is flavourful and intense and yet the dark chocolate isn't too strong to show the marc de champagne through.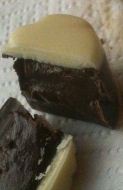 Old Thumper – strongly beer flavoured as you can tell from the hops showing through, this is the wettest of the ganaches I've had. The shell is just the right thickness that the flavour of the chocolate doesn't overwhelm the dark hops flavour and the sugar just balances it off so it isn't too strong.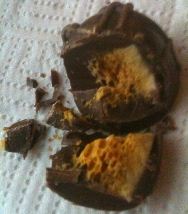 Heavenly Honeycomb – this is divine. The sweetness, the flavour of the honeycomb is just perfectly set off my the chocolate.  It is a bit difficult to bite though so you'll just have to eat the whole thing in one bite. Oh dear… nomnomnom…