December 5, 2011
Askinosie Peppermint Bark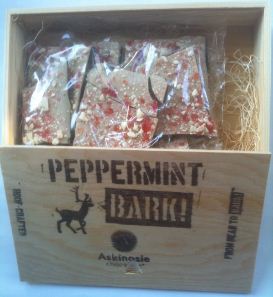 I can't find much information about peppermint bark.  As a Canadian, we don't have as much of a history of peppermint bark as it seems Americans seem to have.  I don't remember having it around much growing up but I do remember many different types of candy canes and various confections by different shops around and the search for peppermint perfection.
The leap of taking candy canes and putting them in chocolate can't have been too great a leap.  In fact, I'll bet the peppermint candy left the white chocolate slightly minty.  Whatever the reason, white chocolate is paired with dark chocolate and candy cane.
Now, easy as this sounds, it isn't.  Firstly you have to melt and temper the dark chocolate and pour it into a slab which is not too thick but absolutely not too thin.  The key is that it has to not melt and not mix with the white chocolate. The two layers need to bond together and yet not melt together.  Then the bits of candy cane need to be added but not sink too deeply and not fall off.  Peppermint bark is a bit of an art.
It also isn't enough to just use any old chocolate.  Bad quality chocolate isn't ever going to give you the kind of results good chocolate is. Bad quality chocolate will be lifeless and chewy.  Good quality chocolate isn't something easily found in peppermint bark and yet here it is.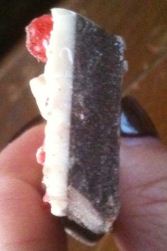 As you take your first piece, you know this is different. The smell isn't overly pepperminty but there is a quality here you can smell.  The distinctive scent of the chocolate comes through and as you try and break a piece of the thick chocolate you know that this is special.  The thick white and dark chocolate is fruity and delicious and not overly sweet.  The peppermint candy adds a slight sweet minty flavour without overpowering the chocolate.  This isn't about being strongly flavoured – this is all about letting the chocolate take centre stage and then adding a hint of peppermint candy at the end.
This is delicious and well worth having shipped to you no matter where you are.  Buy some FAST before it sells out and you'll thank me for YEARS to come.