November 15, 2010
Hotel Chocolat Truffle Advent Calendar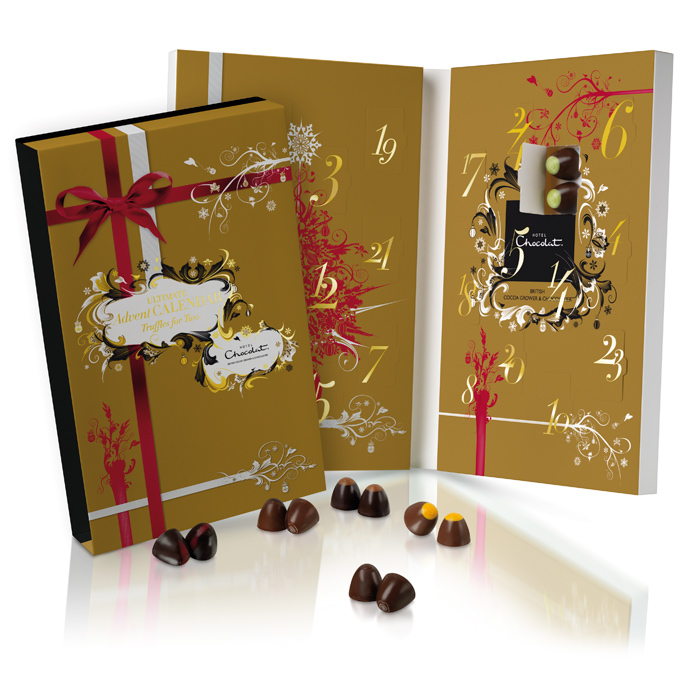 When I was growing up, I didn't always get an advent calendar and when I did, I had 2 siblings to content with as well.  Chocolate advent calendars were a true joy and to be cherished.  Strangely enough, even as a child I would forget to take a chocolate on a specific day and would try and sneak a peek at other days to grab those 🙂
As an adult, the array of chocolate advent calendars has grown and the quality of the chocolate has improved.  Or possibly being in the world of chocolate so much I am exposed to them all the more.  This is how I came to encounter the Hotel Chocolat advent calendar.  I received it as part of a preview of their range and have dutifully released the reviews closer to Christmas but this is one itel I wished I could have saved and enjoyed in the way it was intended to be but alas the fresh truffles were made with short shelf lives.  This means when you buy yours, you can be assured of a good quality truffle.
There are TWO truffles per day for the 24 days leading up to Christmas so there are 48 truffles in total in the box.  There is a wide selection but pink champagne seems to be missing 🙁  The chocolate selection is caramel & cherry, gianduja, cinnamon, lemon, caramel & rum and orange.  That diverse selection means that there will pretty much always be something for everyone!
All in all I think that for £22 this is a pretty good deal for an adult advent calendar.  With 2 truffles on each day it is either one for you and your partner or one for brekkie and one for dinner 😉  Mine will have expired before December and I am seriously considering getting another.  Hotel Chocolat has surprised me this holiday season and I'm quite pleased and honoured to have been given a sneak peak and especially to have been brave enough to try and fruit and nut wreath which really rocked my world.
I have become more of a Hotel Chocolat fan of late and I hope I'll continue to get sneak previews of future products!