November 15, 2010
Godiva Chocolate Selection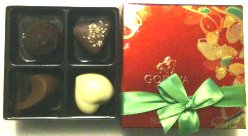 It's the holiday season and so a number of chocolate makers are making holiday chocolates.  From Paul A Young to Godiva and Chococo to Green and Blacks, the seasonal offerings from chocolate makers are delightful.  Godiva has released a whole series of chocolate delights for Christmas and I was lucky enough to try some.
The first thing I tried was the Speculoos Carre.  This is a milk chocolate square with speculoos cookies crumbled into the mix.  This is one of the Christmas chocolates and with skeculoos being included in more and more chocolate, I wanted to try these.  The chocolate is typical of Godiva so a very sweet milk chocolate with a slightly oily finish. Lots of people *love* Godiva chocolate and sweet milk chocolate is enjoyed by many.  The cookie was _very_ finely crumbled in the milk chocolate and while there was a lot, I kind of wished it was a whole cookie covered in Godiva milk chocolate.  In fact, I wish I had been sent the fondue kit with some cookies because that would just be delicious.
Next I tried the dark chocolate and raspberry carre.  This dark chocolate is nice with a slight bitterness but this is hidden by the sweetness, making it a dark chocolate many people not completely confident about dark chocolate will be comfortable.  The raspberry is slightly sour which I like as a contrast to the sweet dark chocolate but I would have loved a stronger, more aggressive raspberry flavour.  Still delightful but if I was making them I might have adjusted the balance slightly.
Lastly I had the small 4 chocolate selection box. I knew the white chocolate would be sweet and the dark truffle looked most special so I went from white to dark.
White Chocolate Heart – this praline-filled white chocolate heart has two halves merged together to create a whole chocolate. I've met a number of people who love white chocolate and if they also enjoy that nutty praline, this is for them. The shell is thick so praline lovers may be slightly disappointed.
Milk Chocolate Swoosh – I don't know if this chocolate is called a swoosh but it seemed like a good name 🙂 This has more praline mixing with the sweetness of the milk chocolate and for praline lovers will be a delight.
Milk Chocolate Triangle with caramelised hazelnut – this is another praline with a lovely crunchy topping giving it a little texture.
Truffle Dessert Tiramisu – expecting a plain chocolate truffle, I was absolutely THRILLED to discover this was one of the new season truffles. The centre is white chocolate coffee ganache covered in a tiramisu ganache and then covered in dark chocolate and dusted with cocoa powder.  I liked this one.  Yes, my lips were oily at the end but to heck with it – it was yummy.
Judged against its peers, this is great.   I actually would compare it to a Charbonnel et Walker but I think because I like ganache over praline I might do a self-chosen selection box as a gift for me!