May 18, 2012
Haagen Dazs Mint Leaves and Chocolate Ice Cream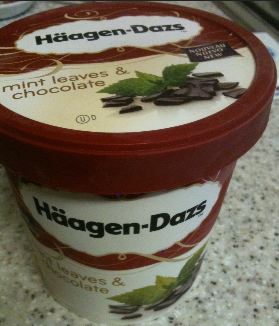 I have to admit that when I first heard about this ice cream I was intrigued. I could not imagine what it was – would it be chocolate ice cream with mint leaves brewed in the cream to git it a more herbaceous mint flavour? Was it going to be min chocolate chips with green ice cream as I remember from my childhood? What would this new flavour be…?
So it was interesting to see the outside of the package and see it was vanilla ice cream and chips – close to my childhood favourite. So I set aside some couch time, put my special sleeve on the pint so it wouldn't melt too quickly and it could go back into the freezer, and sat down with a spoon to taste the delights of this new ice cream.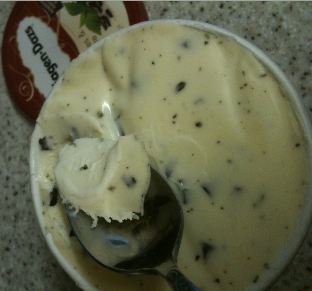 It starts creamy – a signature mark of Haagen Dazs. Because they don't aerate the ice cream, there is more to enjoy and that's why it is more expensive (as well as the quality ingredients they use). So the first spoonful was a treat of thick creamy vanilla ice cream flavoured to just the right degree with mint and chocolate chips… and something else that was a bit shocking.
I wasn't sure at first that I had tasted what I tasted – after all, all the specs in the ice cream were chocolate… weren't they? NO! They certainly were not! What the… closer inspection showed me something I thought no mass-market company would ever do because of the complexity of the material.
They put REAL MINT LEAVES IN THE ICE CREAM. I kid you not! Yes, I know that they could be extremely bitter and I know that they could be woody but Haagen Dazs has made the brave decision to put finely chopped mint leaves in their ice cream.
I cannot begin to imagine the difficulty they face to select only fresh leaves with no blemishes and add them to the vanilla ice cream.  The flavour does, as a result, have some of that typical gorgeous slightly chlorophyll flavour to it which comes from the leaves. What a delightful surprise to find something that just once again demonstrates the care and attention to detail that the folks at Haagen Dazs take with their ice cream.
What a wonderful favour. Vanilla ice cream flavoured perfectly with mint, chocolate chips and very finely chopped mint leaves. A quality flavour from a company dedicated to quality.