May 21, 2012
Cloud Cocoland Handmade Chocolate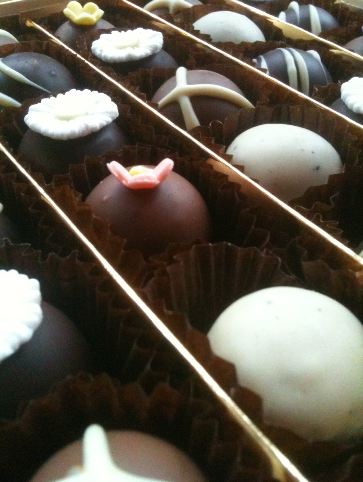 These arrived too late to make the Easter reviews though one is easter themed however good chocolate is timeless and as such I gave these a review and thought you all could order based on the flavours you like!
Cloud Cocoland chocolates came on my radar when they asked me to retweet one of their discount offers (hot tip – follow them on Twitter and get alerted to their infrequent special offers as they happen!) and I said how could I when I didn't know what their chocolates were like. They set about fixing that and voila they sent me this box of delicious chocolates.
The office absolutely decimated them.  The last to go, probably because of childhood antics, were the lemonchello and one of the first to vanish were the panettone hot cross bun (which was also the most positively remarked on). The lemonchello did vanish in short order but the relative speed (seconds vs minutes) meant the last chocolate left was Lemonchello.  So… to the review!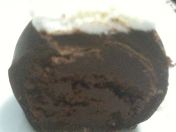 Lemonchello – I was slightly surprised here with the dark ganache and dark chocolate and relative solidity of the filling. Often alcohol chocolate ganaches are looser.  This chocolate (possibly because of the dark chocolate) had a subtle but flavourful ganache, distinctly lemonchello but without being sickly sweet. This is really nice!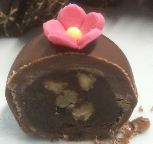 Pecan – I'm a real fan of the flavour of pecans so I'm biased here. I find this chocolate delicious! It is just the perfect combination and if I was able to do one thing only I'd lightly caramelise the pecan to seal in the flavour, add a bit of crunch and maybe even a hint of spices in the caramelising process.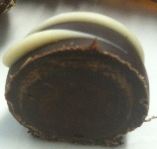 Earl grey tea – People who read this blog regularly know that I'm a big fan of Earl Grey tea in chocolate. I just love it except when you get a mouth full of tannins because of the leaves 🙁 So when I tried this choc I was expecting a lot and it was flavourful and distinct but maybe slightly dark. I'm not saying this is a bad thing and I'm the only person I know who puts milk in their Earl Grey tea so I'm clearly weird!

Panettone hot cross bun –  Ah, the star of the box it seems. Boy was this interesting. I was really worried about finding it full of yucky (to me) fruit (lovely to many and don't forget how much I loved that wreath). Well, it was delightful and flavourful with lots of interesting tastes all combining together with a fruit over-riding taste from orange peel maybe lemon peel but not a mouth full of fruit.  This will appeal to a broad cross-section of people and I think a whole box of just this could work at a party.

Mocha & white chocolate – So I saved this for last as coffee can be really overpowering. As a note in chocolate it can t times drown other flavours out andis the longest lasting end note I know of.  This chocolate was a delightful coffee flavour in a delicious ganache. Just the right balance of flavours.
All in all, this is a fun and delicious box of chocolates from a cool small artisan chocolate company. You can pop to their website here and remember to follow them on Twitter here.