May 22, 2012
Maison du Chocolat Un Ete en Bretagne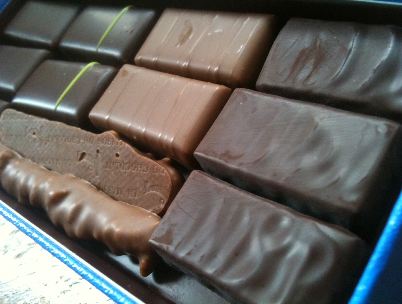 There's a wonderful new collection from Maison du Chocolat. I really enjoy Maison du Chocolate chocolates. You might remember how enamoured I was of the Christmas collection. I don't think I have enjoyed as much ganache as I did that Christmas.
I checked the website for this delightful new collection and it had an evocative description: "Sea calm, agitated, beautiful, powerful… discover the "Un Eté en Bretagne" Gift box filled with an assortment of ganache and praline." But what we really want to know is how do they taste…?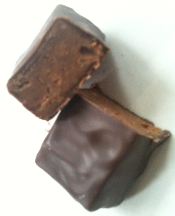 CORNOUAILLE: The first chocolate I tried was the Cornouaille which is pieces of almonds and walnut in a delicate praline cooked in a traditional style, with slivers of crepe covered with grains of sugar, and pieces of caramelised nuts. Can I taste all that? No, not really. I can taste  delightful nutty praline that isn't too overwhelming with yummy crepe slivers. The balance of flavours is subtle but distinct, a trait I've noticed among a number of French chocolates.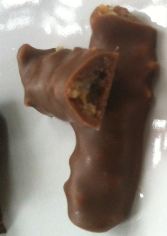 PAYS DE SAINT-BRIEUC: Next I tried this stick which is delicious crushed Breton sablé enrobed in milk chocolate. A delicate sprig which crackles, and crunches. It is sweet, with an interesting buttery sweet flavour and kind of biscuit-y crunch which is closer to a  nutty texture than biscuit/cookie. Buy is it ever yummy!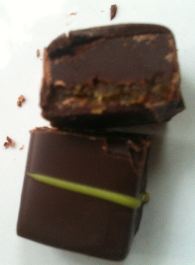 TREGOR: I then moved on to this really interesting Breton apple, mi-compote mi-caramelised covered with a dark ganache. They say that it is "unveiling on the palate, the acidulous crispness of morsels of apple tempered by a honey-sweet dark chocolate." There is a layer of apple compote and a layer of delightful ganache. A really interesting chocolate and wildly delicious. YUM!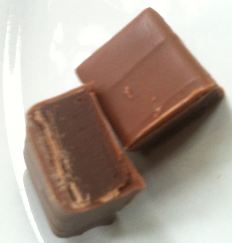 PAYS DE SAINT-MALO: Oh my goodness – I tried this and fell in love. The milk ganache with caramel and a hint of salt is just amazing, I have to have more. The website says: "A stopover of pleasure with caramel, creamy, biscuit flavours with a dash of vanilla and a dash of salt for a smooth finish on the palate. " Oh yes… all that and creamy moreness. One box to go please – I have a date with my couch and this box of silky creamy divinity.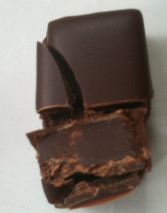 PAYS DE DOL: Lastly I had this chocolate of plain dark ganache with notes of chocolate, acidulous, spicy with intense cocoa, and with texture rolling and melting on the palate. There is an immediate spice hit and then calming to a dark chocolate ganache with a bitter edge. Delicious!
All in all, this is a really delightful gift box of chocolates. A well-balanced mix of flavours that will appeal to a number of people. You can buy it in their shops or online here.