November 19, 2010
Guylian Temptations Chocolates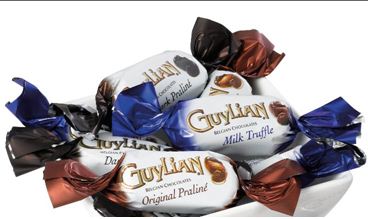 Now, I know this isn't a premium brand but it is probably the chocolate a lot of people associate with Christmas.  Guylian who make the praline filled chocolate shells have created a new product called Temptations for the Christmas market.
Now, I realise that these are marketed as a premium gift but for regular readers of this blog, you'll know the quality of the chocolate does not put it into the "top notch" category.  Still, that doesn't mean that with respect to their peers they aren't great.
Individually wrapped, these are kinda fun.  You get the typical chocolate seahorse shape in three flavours; original praline, dark praline, and milk truffle.   These are not sophisticated and while I must admit I am neither a praline fan, nor a fan of this somewhat oily, very sweet chocolate, this is going to be the perfect gift for someone in your life I'm sure.  For me, it coats the inside of my mouth in oil and the extreme sweetness means I needed a cup of coffee to clear my palette but I know at the very least two friends who would rather these than Paul A Young chocolates.  Odd but true (I am working on them).
This isn't great quality but it is fun and it is easily purchasable and they do have mass market appeal.  While it would be lovely to only have high quality chocolate available everywhere, there are far too many people who would prefer a box of these so don't disappoint them 😉 But for yourself grab a Hotel Chocolat fruit and nut wreath… I know I sound obsessed but it really made an impression on me!
***FREEBIE FRIDAY*** I'm giving away a small box of these chocolates to someone who comments on this blog or comments on this facebook post!
***YAY*** lapsapchung wins the chocolates!!