November 18, 2010
Divine Dark Chocolate After Dinner Mints Review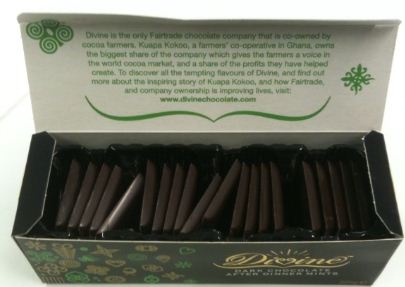 What is it about the thin chocolate mint that has captured our imagination so?  It is the thin creamy mint fondant centre or perhaps the delicate coating of dark chocolate?  Perhaps it is the combination of the sharp mint and dark chocolate that has delighted our taste buds so.  Whatever the reason, the after dinner thin mind filled with mint fondant has become a holiday favourite and one that is consumed in great quantities if my household is anything to go by.
The offering from Divine is both ethical and delicious, if a bit thicker than your traditional thin mint.  This dark chocolate after dinner mint is in the traditional square shape with the familiar ripple on it but that is where the similarity ends.  This is a thicker mint flat square with a flat bottom and a thicker side than the traditional thin mint fan may be accustomed to.
The combination of chocolate and mint does work and is delicious and because they are thicket I think we ate fewer chocolates.  These are also fair trade (both the chocolate and the sugar for the fondant) and so help ensure you are eating a chocolate for which a fair price has been paid to the farmer.

I shared these (reluctantly) with the office and quite a few people wandered back for more.  They were a delight and everyone enjoyed them.  I have to admit it is going to be difficult to eliminate the smaller, thinner version completely from my household but there is definitely going to be a place made for these in the future.