November 19, 2010
Hotel Chocolat Christmas Dinner Chocolate Shapes Review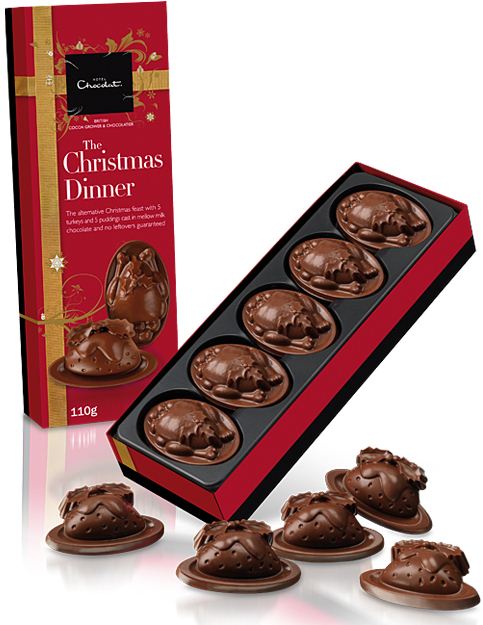 Now, before you screw up you face and think *GROSS* these are small milk chocolate shapes of little Christmas dinners and puddings.  You get 5 of each and they are kinda weird if cute.
I am not sure how appealing the idea of eating a chocolate in the shape of a turkey is but hey – some people light like to start nibbling at the leg while others may prefer breast meat.  Then there are those of you who will opt for chocolate pudding first.  NAUGHTY!  You'll spoil your appetite for your chocolate shaped Christmas dinner!
These are cute though and imagine the look on the faces of your guests (or your kids!) as they realise that mellow milk chocolate shape they just plucked from the box or off the place is actually a whole turkey with potatoes! Of course, it's the best way to make sure the kids don't leave anything on their plates from a whole turkey and there are almost cast solid chocolate guarantees to be no leftovers (see what I did there… did you giggle… even just a little?).
But if you have a box of this delicious chocolate turkey and pudding feast, how would you offer it around or would you secret it away and when anyone asked say "I'm busy with Christmas dinner"?
*** FREEBIE FRIDAY ***  Leave a comment on the blog and/or leave a comment on Facebook telling me what you'd do with a box of these lovelies to win one of your very own!  If you're only on twitter, tweet "If I won that box of @HotelChocolat Christmas dinners from @MostlyAboutChoc I'd …" filling in what you'd do with them.  I'll draw an imaginative winner on Sunday!
***YAY*** we have our winner! Coversnails gets the chocolates!