July 18, 2011
Gorvett and Stone Eton Mess Chocolates Review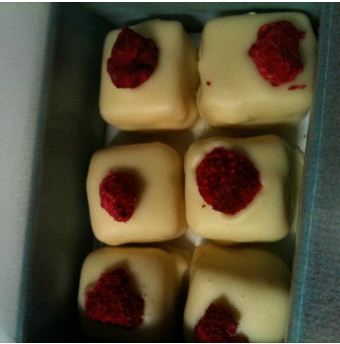 It's no longer Easter but I got these close to Easter and tried them then, when I was trying a ton of other chocolate. I'm not sure but I may have slightly chocolate myself out back then but these were definitely something that was delightfully different from that time. White chocolate instead of milk or dark, small filled chocolates as opposed to large eggs…
I've been a fan of Gorvett & Stone for a number of years now. I've known about them since around 2006 when I encountered them as part of a work effort to find a corporate gift for larger advertisers one year. They sent samples and while the circular hatbox was amazing and the chocolates were the best I'd tried, we regrettably went with someone else as the circular box didn't quite work for our needs to mail the gift.
The chocolates from Gorvett & Stone made an impression on me and while we didn't use them then, I recommended them to others as I knew the quality of the chocolates. Regrettably that was before I started chocolate blogging and so I haven't had the opportunity to review their plethora of chocolates yet.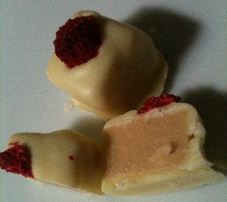 I was sent a box of Eton Mess as part of a review box of chocolates. These small chocolates with their dried strawberry on top were typical Gorvett & Stone and reminded me of what I had for too long not experienced. The quality in the presentation is amazing and something they should be proud of. Of course, it has also helped win them awards.
The chocolates themselves are typical Gorvett & Stone with a small, almost bite-sized size with a decoration on top. They were made with quality Valrhona white chocolate and the centre was a delightfully sweet strawberry and white chocolate ganache. The delicious dried strawberry on top was not freeze-dried and so was not crunchy thankfully. For this Eton Mess, the white chocolate is the meringue, the whipped strawberry & white chocolate interior reminds me of strawberries & cream and the those thing creates a delightful mouthful of chocolate.
These are sweet but so is the dessert 😉