July 15, 2011
Lick the Spoon Sea Salt & Butterscotch Dark Chocolate Bar Review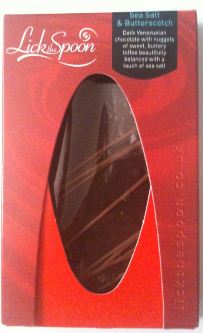 Putting sea salt into sweet things like caramel and milk chocolate has become extremely fashionable of late and despite that it is almost always done well. When I was sent my pack of Lick the Spoon goodies, it was because I had gone to Liberty and been disappointed because the only bars left were all damaged and so I didn't buy any. Lick the Spoon kindly sent me a bar of the Matcha Green Tea chocolate I had wanted to buy and a few other treats besides. This is one of those treats.
I have to admit that I've had my fair share of sea salt traumatic moments. I've had the large pocket of salt suddenly explode and flood my mouth with brine. I've had sea sarl covering the outside of something that then made it impossible to taste the chocolate. I've had the good, the bar and the traumatic and so I know it is not easy to get sea salt right. I always approach sea salt anything with some fear and anticipation. In this case I needn't have worried.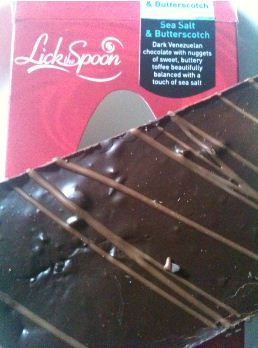 This chocolate bar says it is "Dark Venezuelan chocolate with nuggets of sweet, buttery toffee beautifully balanced with a touch of sea salt". A contrast to the green tea chocolate I tried from them, this chocolate is earthy and slightly chalky. The sea salt is subtle but you do get it if you chew which you mind of have to really because of the toffee. The toffee itself is delightfully sweet without tasting like a lump of sugar. It has a clear and distinct flavour and sticks to your teeth like proper toffee should.
I might have chosen a slightly different chocolate base to pair with the toffee but I think that they've done a great job here with the chocolate. It isn't my top favourite flavour but they have tamed it around the edges and the sea salt compliments rather than fights with the chocolate and toffee. The toffee is generously scattered through the slab and have a delightful, distinct flavour.
Overall I really enjoyed this bar.