December 20, 2015
Easy Spiced Sugar Cookies Recipe
I've loved sugar cookies for a long time but I've never had an excuse to make them. I thought that for the holidays it would be lovely to have a spiced cookie but without the difficulty of having to add all the spices separately like all the recipes I saw required.
When Schwartz commissioned this recipe I thought I'd create an easy but festive cookie recipe that brought the magic of holiday spices to your baking without all the faff. Schwartz's Mixed Spices with a bit of added holiday worked perfectly and became an instant favourite with my friends and family and made the whole house smell of Christmas. I hope you love them too.
Ingredients:
250g butter
275g golden caster sugar
2 large eggs
1 tsp vanilla extract
350g plain flour
1 teaspoon baking soda
1/2 teaspoon baking powder
Dash of salt
5 tsp Schwartz Mixed Spice
1/2 tsp Schwartz Cinnamon
Pinch of clove powder
Very generous pinch of nutmeg
Granulated demerara sugar for sprinkling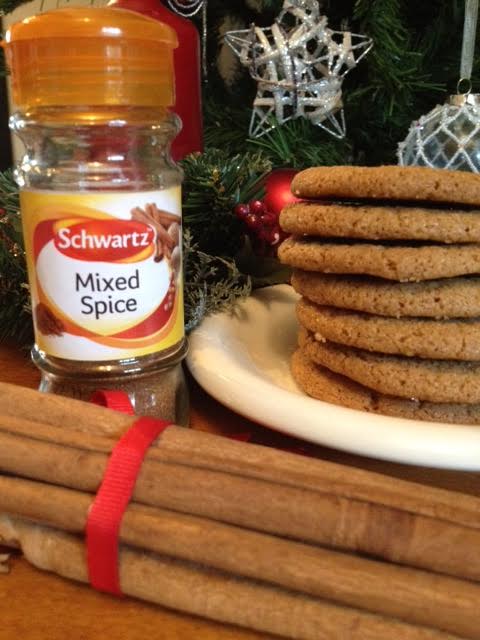 Directions:
Preheat oven to 170C fan, 180C conventional.
Cream butter and sugar together until they change colour.
Add eggs one at a time, beating them in to the mix as you go and add the vanilla to fully blend in.
Measure the flour, baking soda and baking powder into a sieve and add the dash of salt. Start to add to mix by sifting together. Half way through, add the spice mix to the sieve (not essential).
Mix the flour blend in with a spatula or spoon – not the blender.
Chill the mix if you like chewier cookies.
Create small (just smaller than a golf ball) balls of dough and place on a baking tray lined with parchment paper.
Sprinkle top of each cookie ball with sugar and press down lightly to flatten a bit. Don't flatten too much or they won't bake properly.
Bake the tray for 9min until browned.
These cookies should be crisp at the edge but soft in the middle. They will keep your home smelling like Christmas every time you open the cookie tin.
If you are feeling inspired by spiced baking, why not check out the other recipes on the Schwartz site here: http://www.schwartz.co.uk/recipes/c/dessert
This recipe was a paid commission by Schwartz.