December 21, 2015
Pauls Christmas Buche Range is the Best for 2015
I love the Paul Bakery in Oxford (and really everywhere) for their bread as well as the amazing buche they have at Christmas. I was lucky enough to have the chance to try these in advance of the big push for the holiday season and in a radical departure from the norm, I think you'll find a shocking top pick from me.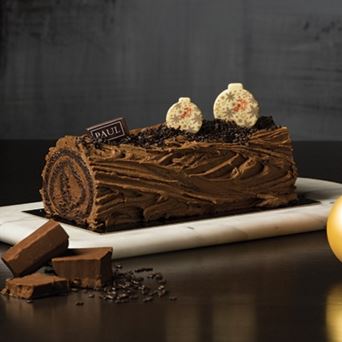 Bûche Roulée Chocolat – VERY chocolaty and absolutely gorgeously indulgent this buche is a true Christmas staple for any festive foodie. How can you resist this sensational seasonal chocolate log, incredibly indulgent and totally traditional? I'm sure you'll savour every piece of this perfectly-presented rich roulade stuffed with smooth milk chocolate cream and rich dark chocolate mousse and, topped with a sprinkling of chocolate shavings. But in a shock move this is not my favourite buche. I KNOW! It's a shock and I shocked myself when I realised which was my favourite.
So here is where I have to question my chocolaty credentials – I loved the next buche more than the chocolate and there is NO CHOCOLATE in it (unless you count the chocolate chips…).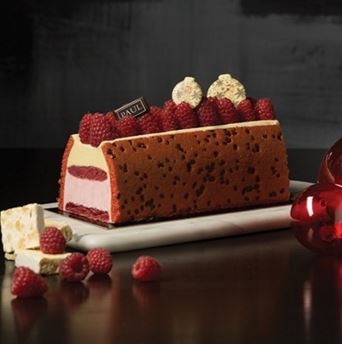 Bûche Framboise Nougat – I was surprised by liking this one because I do not like coconut. There were layers of coconut dacquoise, nougat bavaroise and raspberry mousse which were encased in a light and fluffy raspberry sponge studded with chocolate chips and finished with a crown of fresh raspberries. This is a gorgeous, light and amazingly beautiful alternative to chocolate desserts or Christmas pudding that will satisfy any sweet tooth and add extra splash of colour to your festive feast. Both husband and I loved this delightful dessert and we are super picky people!
Bûche Châlet – This was really different and I loved the roof as well as everything about it. It was on the nutty side of course but it was a surprising blend of textures. Delicately designed to look like a snow-topped Alpine lodge, alternating layers of soft almond biscuit and Gianduja (hazelnut and chocolate) mousse are housed in an icing sugar-dusted praline pastry roof. AWESOME FLAVOUR!
So there you have it. You can pick one of these beauties up from any Paul Bakery anywhere so go for one!