November 24, 2011
East India Company Chocolate Island Cane Sugar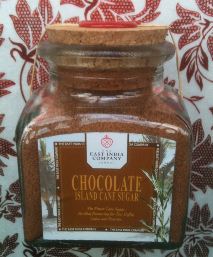 Here is something about a pot of sugar with a wax seal on the top of it that just makes it extra special before you find out about its amazing provenance.  There's something more when examination of the sugar crystals shows them to be of slightly rounder edge and covered in cocoa.  This is what I found when I got a whole huge pot of chocolate sugar from the East India Company.
According to Wikipedia and the various citations, there has been a long history to the East India Company but "The Indian Mutiny of 1857 resulted in widespread devastation in India and condemnation of the East India Company for permitting the events to occur."  Well, they are back with luxury chocolates, teas, coffees and sugars.  At the tea and coffee festival I was able to try a creation they had made with chai tea, run and the vanilla sugar.  That had the same distinct flavour to it that this sugar has.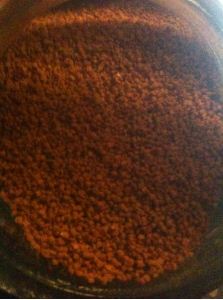 The unrefined sugar has a distinct flavour quite separate from the cocoa that I am not used to. There isn't necessarily a molasses flavour nor is it the cocoa but there is a flavour to this sugar that is difficult to describe.  The sugar is, of course, sweet but there is something more.  I cannot describe it but to say it is not unpleasant.
This is a fun sugar but it is quite expensive at £10.  It has a distinct flavour and the cocoa powder but I'm not sure whether or not I'd buy it.  I'm torn.  I'm a girly girl and like cute things like this and it is unique with a distinct flavour but at over £40 a kilo it is extremely expensive sugar.