November 24, 2011
Mr Stanleys Traditional Dark Chocolate Coated Lime Fondant Creams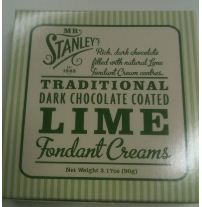 Most folks who read this blog regularly will know that I won't turn down a rose or violet cream, especially if it is from one of my favourite makers of this delightful confection. So when I heard about Mr Stanley's lime fondants I was intrigued – could these possibly hold a candle to my beloved rose and violet creams?
The way this box found me was slightly strange if I think about it.  I think I noticed Mr Stanley had started following me and so because I was intrigued by the description on the account, I checked the feed for his twitter account.  Upon checking I noticed he was running a competition for a box of his lime fondants and he wasn't giving away one box – he was giving away TEN.  So I thought I'd throw my tweet in the ring and see if I could win.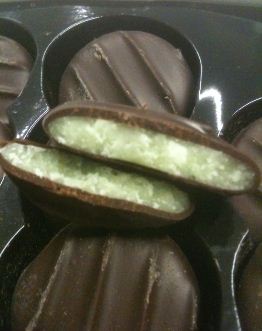 Now, I often compete for things I want to review.  I'm not sure why but at least I guess I feel like I have somehow at least made an effort and shown an interest.  Sometimes I try and don't win even though I really want to review the item, sometimes I'm removed from the competition and given a review product and sometimes random.org plays in my favour and I win something!  This was the case with Mr Stanley who selected me as one of the lucky winners.
Well,  I thought to myself, I had better review these bits.  And so I did.  These look somewhat like mints but get within a few feet of the box and you'll know they are lime.  They are absolutely distinctively lime with that heady citrus top note coming straight through.  They are an interesting green colour inside and once you bit in to one you'll never go back.  The fondant, while not totally smooth, has a lovely lime flavour.  There are definite crystals of sugar in here as though the fondant wasn't quite right but that is more than compensated for by the delicious flavour.
The lime is pronounces without being overly synthetic or overpowering.  The dark chocolate, while not Soma, is decent enough not to throw the mix off (though I long for the lovely Prestat Madagascar covering these – oh how that would be a joy to eat!) and the whole experience is one of sweet, but not too sweet, lime deliciousness.  |The size and shape are just right for the type of fondant and experience and I don't think I need a piece of candied lime on top just yet 😉
These were tons of fun and yummy.  In fact, when I *generously* shared them with the office, everyone who took one exclaimed how very lime they were and yet delicious.  So they have the office seal of approval!