February 7, 2012
Divine White Chocolate and Strawberry Hearts Review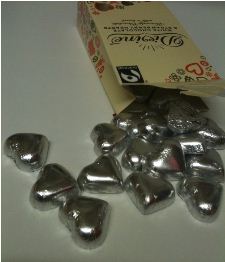 What is Valentines Day without some foil wrapped chocolate hearts? Mind you, I miss those little cinnamon candies of my youth but they just aren't popular here. Well, perhaps we can change that but until then, chocolate and strawberries is always going to take the prize for the ultimate Valentine treat and now you have give your sweetheart a whole box of chocolate covered strawberry (crisp).
Joining the packs of dark chocolate and milk chocolate hearts are the new strawberry white chocolate hearts. This sweetly interesting extension to the range is inspired by Divine's bestselling strawberry white chocolate flavoured bar which I didn't remember reviewing but HERE IT IS …. Each silver foiled heart combines creamy white chocolate with pieces of strawberry crisp made with real strawberries. All ingredients are entirely natural and they are suitable for vegetarians. The 125g packs are priced at £4.50 (rrp) and will be available at Waitrose and Oxfam nationwide and from Divine's online shop from January 2012. For the online shop visit www.divinechocolate.com/shop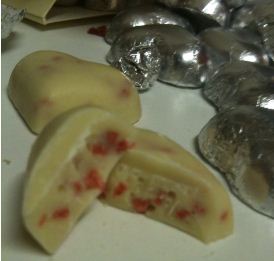 There were 21 hearts in my box meaning 3 people could have 7 or 7 people could have 3 or one person could have LOTS… 🙂 however you split them up – individually taped to a valentine card or as a gift of a while box – these are a sweet treat that'll be fun to eat. The strawberry crisp (which is made from a variety of things I will have trouble spelling) is slightly tart and so I think nicely balances off the sweet white chocolate. I'm more of a fan of those little eggs in the crisp candy shell myself 😉 but these are going to be the perfect sweet treat for a lot of ethical Valentines this year!
I know most of my readers have a real sweet tooth.  They like a sweet chocolate that isn't too bitter and quite a few are absolute fans of white chocolate.  Well, this is white chocolate with a heart. Divine Chocolate Ltd is the only Fairtrade chocolate company that is also co-owned by cocoa farmers. Kuapa Kokoo, a co-operative of 45,000 cocoa farmers in Ghana, benefit not only  from the Fairtrade premium on the sale of their beans, but also receive a 45% share of Divine's distributable profits giving the farmers more economic stability, as well as the increased influence in the cocoa industry company-ownership brings.
So there you go – if buying a sweet treat with a lovely balance of flavours isn't enough then just think about the good you are doing for the farmers. You're being generously selfless when you buy a box of these hearts so that's also the perfect reason to indulge in a bar at the same time 😉 That's my excuse and I'm sticking to it!