February 7, 2012
Chococo Chocolate Love Pod Valentines Chocolates Review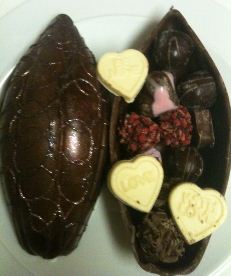 With hearts bearing messages of "Be Mine", "Love" and "With Love", this is a sweet Valentines treat in more than one way.  This delicious handmade milk chocolate cocoa pod, made with 44% milk chocolate from Grenada, comes decorated with dark chocolate swirls and edible pink lustre. It's packed full of mini dark chocolate cocoa pods, a selection of Chococo's award winning truffles, cute Love heart-shaped chocolates and delicious Smoked Sea Salt Caramels.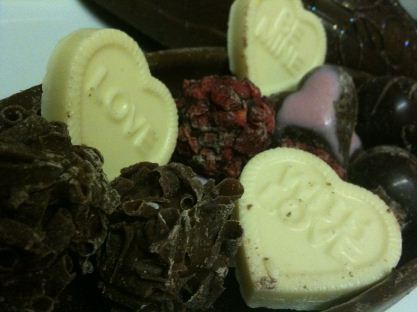 Of course, all chocolates come in pairs and so, I suppose, you could (theoretically) share the chocolates… but oh look I got three salt sweet smoke so if I eat one fast *munches* there's only two of each chocolate (except the hearts). So there you go – there are TWO of each chocolate and three white chocolate hearts and I didn't just scoff one of the caramels…
White Chocolate Heart – each unique message set into a sweet white chocolate is cute. This is a typical white chocolate which is great for lovers of white chocolate.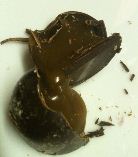 Salt Sweet Smoke – Cornish smoked sea salt muscovado caramel in a dark chocolate shell. Absolutely yummy and you'll be grabbing the extra one for yourself as well. I suggest trying one first then as the pattern of 2 of each chocolate emerges you'll get an extra one 😉


Perfect Passion – handmade pure passion-fruit jelly layered with milk chocolate ganache dipped in milk chocolate and decorated with an edible floral pattern. This chocolate has a yummy layer of passion fruit jelly and a ganache layer.


Raspberry Riot – 70% Grenadian dark chocolate, raspberries & framboise liqueur in fresh Dorset cream rolled in crushed dried raspberries. Absolutely delish and you'll love the sharp sour with the sweet chocolate.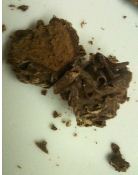 Melting Milk – Milk chocolate fresh cream truffle infused with Madagascan vanilla seeds & rolled in milk chocolate flakes (Gold Great Taste Award 2010). Even husband loved this truffle! It was a bit sweet for me but I did try it after I'd just had the raspberry one which I had after the caramel so it might not be sweet to others. It is a really nice truffle though and while you only get two you can savour the one you get


Tate Heart– smooth hazelnut praline-filled milk chocolate heart decorated with pink drizzle. This is actually a really nice praline and while I'm not a praline lover (nor is husband) I didn't mind this one and ate the whole choc 😉
This is one of the cutest and sweetest gifts. Adorable cocoa pod from Chococo made of chocolate, yummy chocolates and sweet white chocolate hearts. I can imagine that it would be the kind of Valentines gift that would be appreciated for being a gift of love that wasn't typical.