February 9, 2012
Rococo Valentines Chocolate Heart Box Review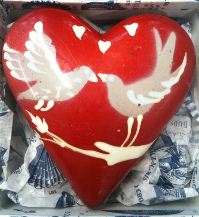 I have not been well of late.  I have had a terrible, lingering cold and I have been working quite long hours at the office (yes, I have a full time job as the head of search at an agency. This requires mostly 60 – 80h weeks including 15h of commuting). During one particularly low point when I had left late, rushed home to make brownies and used every scrap of unflavoured chocolate in the house only to have them fail dramatically and so I had to go without dinner, I got a lovely uplifting email with the most beautiful image on chocolate. That email perked me up, gave me something to look forward to and so I went to bed without any dinner but with the promise of beautiful Valentine's chocolate from Rococo.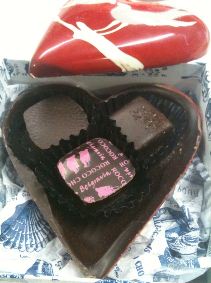 I have to admit when I first saw the box I thought it was wood. This chocolate box from Rococo for Valentine's day is a beautiful example of art and chocolate. Painted on a solid chocolate heart (well, the mould anyway) is the most perfect Valentines image of love – two white doves on a branch with hearts all around them. The background is red, the birds are creamy white and the whole effect will make you reluctant to eat the chocolate itself!
Not only is this the most stunningly beautiful example of chocolate art that you can buy at an affordable price but there are three perfect chocolates nestled inside the beauty of the box.  Yes, that's right, not only is the box itself solid chocolate but there are 3 ganaches inside
The reason for the symbolism of the birds for Rococo is that they symbolise loyalty, fidelity and love – something most Valentines wish to express on this special of days.  They say that in ancient folklore that birds chose their mates on this day. Judging by the birds in the bushes outside my bedroom window, they tire out from arguing on that date and settle down for once. All they're doing right now is being loud… every… morning… at 5am… but to the chocolates…
Rose (maybe) – lightly flavoured and so hard to taste through my cold I'm pretty sure I caught a hint of rose (though that could have been something else) so I'll go with that. Delicate flavours for those with a cold but a lovely ganache.


Plain ganache – I think – maybe – well it was delightful but my stopped up nose didn't let me sense any subtleties.


Irish coffee white choc ganache – this I'm sure of as I could actually taste this – yay! Thank goodness too 😉 it was very nice, smooth and obviously was strong enough for even someone with a cold to taste!
If you're looking for something special, pop on over to Rococo chocolates & buy your Valentine something that is sure to be shared! These hearts are available from Rococo direct and cost £22.50