March 4, 2011
Divine White Chocolate with Strawberries & WIN A BAR!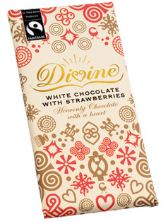 As part of fair-trade fortnight, I got a few bars of these 100g White Chocolate and Strawberry Divine chocolate. Being the sharing kinda person I am, I will be giving away TWO BARS of the chocolate but I wanted to keep one for myself to try.
Divine Chocolate was set up in 1998 after the Kuapa Kokoo farmers' cooperative in Ghana
voted to start their own chocolate company. The cooperative owns 45% of the company, has
two representatives on the Divine Board, and receives the largest share of the distributable
profits.
I'm not a huge fan of white chocolate mainly because it is usually overly vanilla deodorised cocoa butter, milk solids and sugar. I'll try some but generally I know I'll not like it. I think filled white chocolate is the way to go as the Matcha Chocolat Jasmine Tea chocolates are absolutely delicious.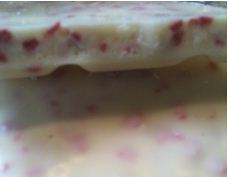 So it was with a touch of cynicism I tried this bar. I should have been prepared to be pleased. It's weird but I think the strawberry is slightly *slightly* sour and it seems to tone down the sweet vanilla of the white chocolate, making it a much more pleasant bar. I actually loved crunching through the small freeze-dried strawberry bits (I'm assuming – it didn't say so on the pack but they were dry and crunchy). You do get the occasional pip or skin so you know this is real genuine strawberry chunks in the chocolate.
The crunch of the strawberry with the creamy white chocolate made this actually much better than I had expected. Not as sweet as I would have expected I did still cut it with some unsweetened coffee and the combination was perfect!
WIN A BAR! I have TWO bars of this chocolate to give away. Since strawberries and cream are a summer treat, comment on this post about a summer memory and/or comment on Facebook about your ideal strawberries and cream indulgence and/or tweet "Ignore the cold, I want to #win a @divinechocolate bar from @mostlyaboutchoc – details here: http://bit.ly/ggTTgY " and on SUNDAY MARCH 6th I'll draw two winners using random.org.
Only open to people in the UK please as I have to pay for the postage (twice). You have to be following @mostlyaboutchoc and @divinechocolate to win from a tweet. Incorrect entries won't be counted. No purchase necessary. Yadda yadda yadda. Blah blah blah. I'm a person and I do not work with any chocolate companies. I just blog about it. I blog about my day job elsewhere.
Sajad Farid and kemo_2002 have WON!