March 7, 2011
Niko B Organic Filled Chocolates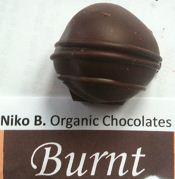 I was lucky enough to be sent two new flavours from Niko B Chocolates. I met Anthony at a food fair and bought some of his chocolates. I only reviewed the brownie but tried other chocolates which were great. Niko B. Organic Chocolates is the brainchild of husband and wife team Anthony Ferguson and Susan Kench. They moved to Hackney from San Francisco for some strange reason and that's when Anthony started making chocolate. I was sent 2 chocolates to try and I did to both carefully.
Burnt – a burnt caramel & lemon truffle. The lemon in this truffle is delicious – tart without being sour, lemony without being sweet. The crunchy bits of caramel are delicious and a nice counter balance to the smooth truffle. The caramel pieces do not make the truffle extremely sweet and that means this is a delicious truffle. The chocolate is nice but not complex.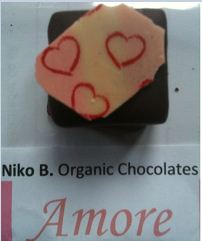 Amore – rose, cinnamon & citrus truffle – this lovely square ganache chocolate is delicious with a cute topping. The rose is up front and in your face as a flavour. It asserts itself and hangs at the front, hiding the citrus which is there lurking in the background. The cinnamon was a bit difficult for me to sense but I had a slightly dulled palette when I tried these.
I've always loved what they were doing at Niko B. Chocolates and these two new chocolates are delicious. I'm pleased to see that they are continuing to make excellent, organic chocolate as well as composting and using recycled and biodegradable packaging.