January 16, 2015
Divine Dark Chocolate and Caramel Chocolate Bar Reviewed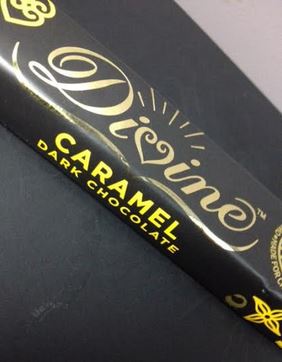 I believe this may be a world first – a palm oil free caramel which was specifically developed by Divine as none existed on the market (or none that was good enough for them 😉 ) has been encased in their signature 70% dark chocolate – DELICIOUS!
The milk chocolate version was a bit addictive I have to admit and I may have squirreled them around the home and office but this combines delicious palm oil free caramel with delightful ethical Divine Chocolate
For those of you who can't be bothered clicking links 😉 Divine is an ethical Fairtrade company which buys its cocoa from the Kuapa Kokoo in Ghana. The co-operative in turn owns 45% of Divine meaning that Divine Chocolate as a company is 45% owned by the farmers who also sell it the cacao. Not bad for a crop that has people in the Ivory Coast unable to escape poverty.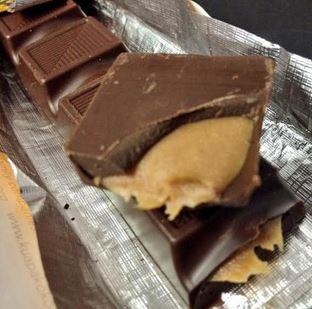 The revolutionary thing about Divine's caramel is that almost all caramels on the commercial market had added palm oil. In fact most of what we eat in pre-processed foods seems to have palm oil in it. While great strides have been taken to prevent the destruction of habitat and rainforest to make way for these cash crop trees, the oil itself has questionable effects on our health.
So Divine, in order to ensure they remain ethical and Fairtrade get everything possible from Fairly traded sources. This chocolate bar lists 80% of the ingredients as coming from fairly traded sources. So not only is it delicious but it is also ethical so you can feel good about eating something yummy.
The flavour is typical Divine chocolate which I find quite pleasant. I snapped a piece off so you could see the thick caramel inside. I've often enjoyed a dark 70% bar and when I was low carbing I used it as my treat. The caramel is sweet with a balance of vanilla in it which, when combined with the dark chocolate is quite delicious. This isn't meant to emulate some kind of short-shelf-life artisan chocolate caramel but rather offer an ethical, Fairtrade sweet treat for those who want something a bit yummy and a lot better for the world.