January 15, 2015
Soma Bahia Black 70% Dark Chocolate Bar Reviewed
The great thing about Soma is that they put a lot of information on their labels. For this Bahia Black chocolate bar, they have put some interesting information on the label: "In Bahia: a region well documented in Jorge Amado's classic novel of cacao "The Violent Land" lies Fazenda Boa Vista, high on the mountains of Cafundos. This micro region has volcanic soil and it's deep forest in a sacred sanctuary of ancient Amelonado type cacao called Parazinho. The crop grows fully integrated with the endangered Atlantic Tropical Rainforest encouraging biodiversity. Fermented for seven days in Jequitiba wooden boxes. Notes of brownies and roasted grains." Wow!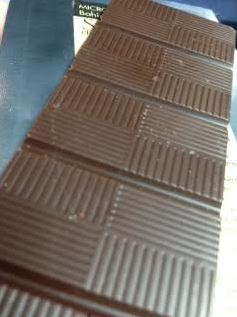 I wouldn't have thought it possible but the nose really does have roasted grains on it. Like toasted cereals. The melt on the palate is fast with deep fudge notes of brownies baked and cooling but not yet finished when you break it open and it is still warm and you can smell that bake still happening. That scent of warm fudgy brownie is the taste of this chocolate and it makes you go back for more. On the melt, the roasted grains are the first to come and really the first to go in a sense. The toasted grains fall behind the deep chocolate notes to combine with it to create that fudgy chocolaty flavour.
There isn't a lot of complexity in this bar for me but the pleasure is in the long lingering notes of fudge brownie. Those notes go on and on forever it seems, with a prolonged finish as the cocoa butter clings to your mouth like one last bite of brownie. It finishes cleanly leaving you craving your next piece.