January 17, 2015
Amadeus.net Has Changed and it's Even Better!
As you all may know, I travel a lot. I travel without husband who holds down the fort at home while I do things that elicit anything from yawns of boredom to actual expressions of physical revulsion from him. I love him to bits and the fact he ABANDONS me to my DISASTROUS FATE of travelling alone I try and be kind of stoic about. Generally I use Amadeus.net since I became aware of it after an Air Canada "back" button landed me there but I also have worked with them for years.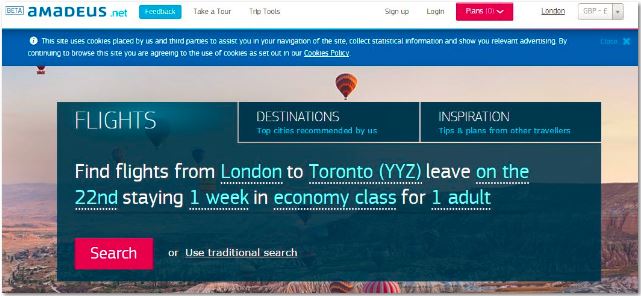 So I've had something come up and I need to leave ASAP and get to Toronto and later I need to get to Berlin then I have to get to Romania (Brasov) so of course, as a client and something I helped evolve, I popped over to Amadeus.net to check flights. First let's tackle Toronto. I don't have much wiggle room with my flights. I need to do ASAP and I need as cheap a flight as possible so I turn to Amadeus.net to see what it can do for me (and you should check them out too 😉 ):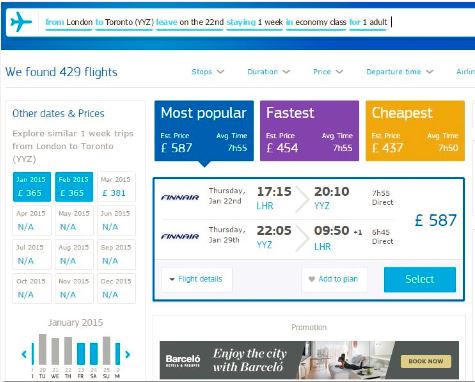 Ya – OK being realistic work is not going to let me fly tomorrow. Let's assume one week lead time to take off – may be less by the time I post this since I'm going to spend a bit of time fiddling with things. Amadeus defaults to tomorrow but I changed the default and chose my airport. The search functionality when you type in a city will give you a drop down to choose from. You do need to pick an airport for most cities but for Toronto it gives me an "all" option which it didn't for Berlin. Just make sure you select your destination airport or city from the drop down.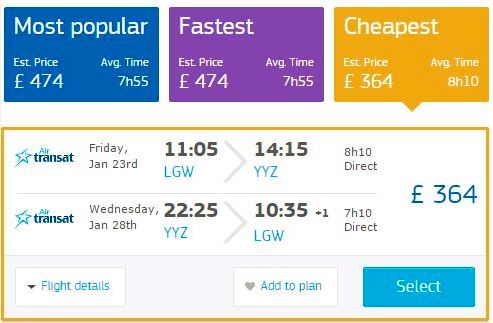 Check it out! If I leave on Jan 23 I can get the ticket cheaper – SCHWING! Thank you funky almost unnoticed graph in the lower left side! YOU ROCK! I've started using that to find the cheapest travelling times within a travel window as if I depart a week or less or more later it doesn't matter right now. That is a super tool!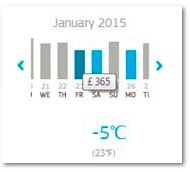 So if you have a bit of wiggle room, you can use that little graph to find a cheaper flight without trying to guess which dates might be cheaper – best tool ever! Amadeus has many other trip tools of course – GO CHECK THEM OUT! 😉 I just don't use them as often – well, weather yes and world clock OK you got me there but… ya OK and some others but not all of them 😀 But the Airport Guide was super useful at a new airport in Geneva because I needed the train station but not all the tools >_< (I'm not making a good argument for my lack of use, am I?)
Anyway – that was Toronto and the natural language search – let's use traditional search for the flight to Brasov. I can't fly direct to Brasov so I choose Bucharest.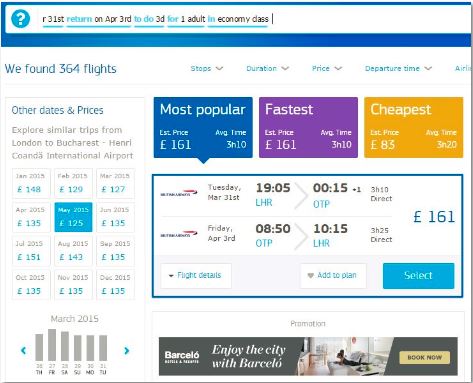 WOAH THERE! There is a big difference in price and look – only 10 minutes difference in time. Surely this is something to check in to more. Part of me here wishes for some advanced options like telling the tool I want to take 1 checked bag and 1 carry on and I want to be able to select my seat in advance. That way I could see the real cost of some airlines (I'm looking at you US-based carriers and BA).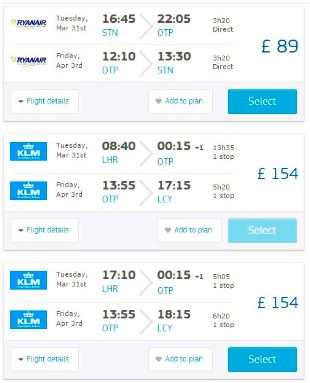 There is a reason it is so much cheaper – it is RyanAir and I would rather cut off my right arm than fly with them. So we have our answer but KLM has some flights from Heathrow at better times so I think I will choose either British Airways or KLM depending on who is part of the Star Alliance and the baggage charges 😉


So now I'm on to Berlin. I dunno – what should I do? Where should I go? I just want to go to Berlin so I turn to Amadeus for Inspiration.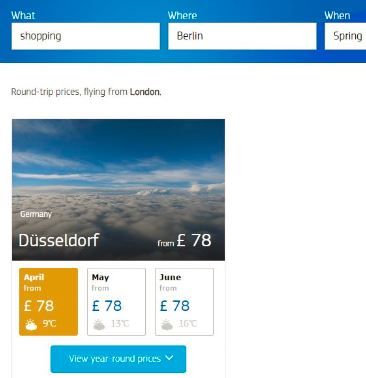 Dusseldorf – oooo why not? I never would have thought of that. Oh heck why restrict it to a city – where should I go in the summer for relaxing?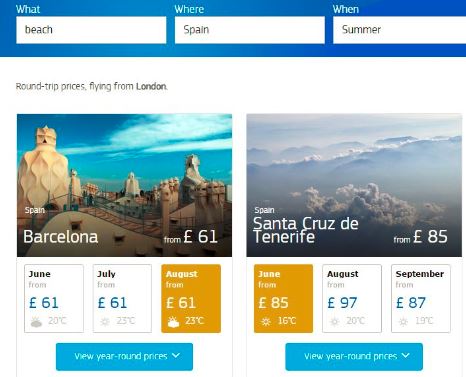 Ooooo – I've never been to Barcelona – good call! Thinking of Barcelona I think actually I might like to go to Porto but when is the weather right? How much are flights?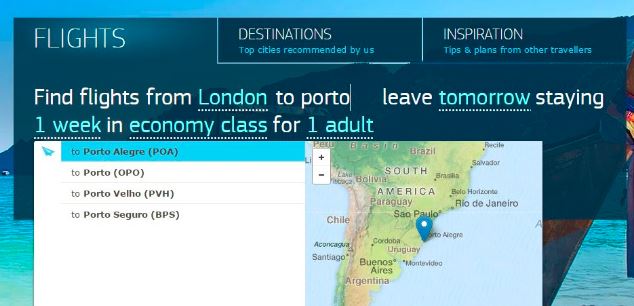 Uh, wrong Porto – good thing it has the map there! I am sure that Port doesn't come from South America 🙂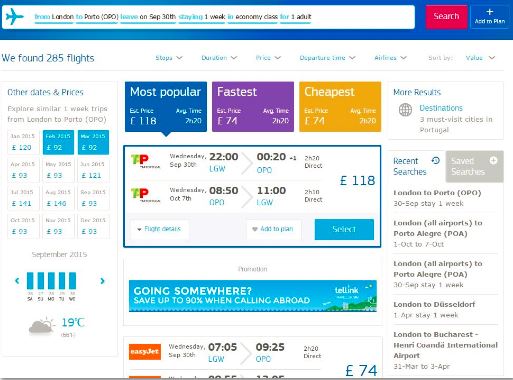 Right, I have to finish my break and get back to work – but I'm going to lose all my notes and have to redo everything! No trouble – I have all my recent searches there to the right and I can create a plan (you can too – this isn't an exclusive club or anything) and get things going. I'd like to focus on Porto because I want to plan a trip there.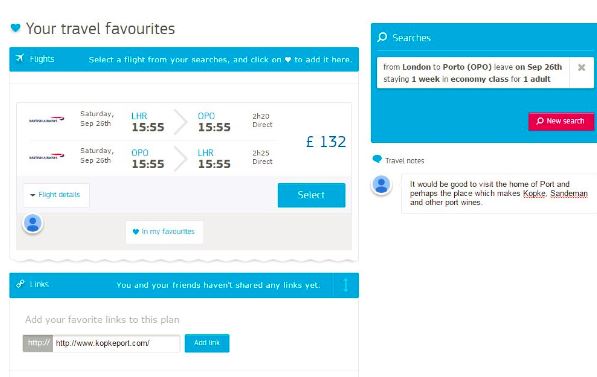 So I've got some initial notes but by saving my plan I can make sure I have everything in one place.
That's my journey. I've loved the tool for awhile and as they are a client I also use them a lot. They did ask me to write this post but all the opinions are my own as are my experiences with the tool. I like the tool and I have a wishlist of additions but knowing what I know I know when they're likely to happen 😉
Give it a try and let me know what you think! Just go to www.Amadeus.net and have a play and leave a comment below!