January 22, 2015
Godiva Heart Shaped Dark Chocolate Truffle Cookies (Chocolate Truffle Heart Biscuits)
I'm a sucker for heart shaped things especially when it comes to cookies and chocolates. I just have a soft spot for Valentines chocolates and cinnamon hearts. I cannot get enough cinnamon hearts. If I was 15 again I'd be eating them by the bucket load and forget the calories. But we are here reading about cinnamon hearts – we're here about these great cookies (biscuits to the folk in the UK) with delightful chocolate tops.
I was offered a box of chocolates and a box of these biscuits/cookies by the PR for Godiva but of course as in all things, this is my opinion of these cookies/biscuits.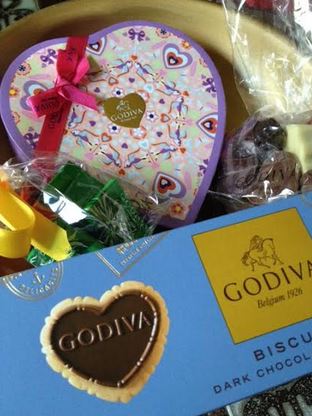 I will give a cookie with a chocolate top a lot of latitude but that still didn't make me buy more Lu with Dairy Milk (I did buy more Ritz and have a 3-pack at home right now) so I'm not a mindless fan. I'm also the first to reach for the chocolate-coated shortbread but Waitrose ones left me a bit cold. It's my preference but I'm still picky.
That's where these great cookies (sorry UK readers – I'm Canadian – it's a hard habit to break)  have made their place in my heart. The cookie itself is a pretty standard one – it's verging on a rich tea as it isn't a shortbread but it's much nicer. The Heard of dark chocolate is actually a tablet that is filled with a chocolate truffle crème. This gives the whole cookie (biscuit) a delightful combination of smooth and sweet with crunchy and dark.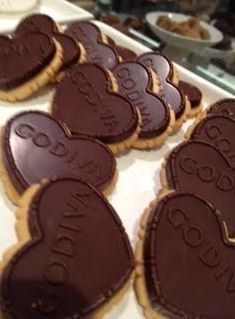 These are dangerously moreish and you'll find yourself saying "well, they aren't to big so maybe I'll just have one more…" and then you notice that there aren't any more and you've eaten all 12.
Needless to say, this box of cookies never made it to the office 😉