January 23, 2015
Godiva Valentine Sweetheart's Chocolate Box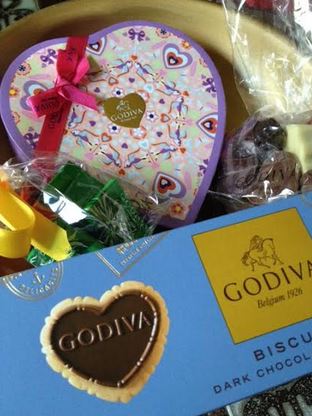 It's difficult navigating your way through the endless parade of pink things and Tatty Teddy and the like at Valentine's day. Roses are at a premium, everything is heart-shaped and more and more people in my social circle are turning away from it as a holiday.
Whether you're not that into it or not, we all agree that we love chocolate (or why are you reading this blog?) 😉
The Godiva chocolate selection in a heart with a more muted mauve and pint with mauve and red and white, etc coloured almost pseudo-paisley design. A welcome relief from garish red or pink and ribbons or bows. The lid has a small discreet ribbon which is also nice to see – less garish, more designer. The gold foil heart is a nice touch as well.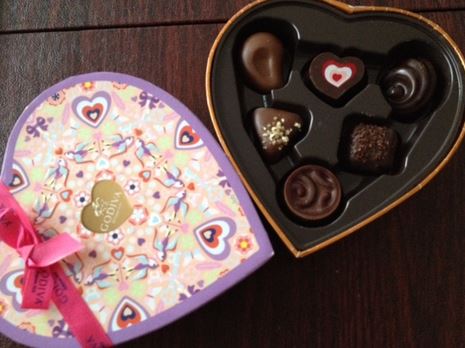 Godiva says: "Treat your sweetheart to this pretty heart-shaped selection of love-inspired chocolates. The scrumptious Sweetheart's gift box is packed with Valentine's-Day inspired gooey ganache fondants as well as our most seductive and well-loved pieces."
I'm actually really thrilled about this selection. I'm much more a fondant or ganache kinda girl than a praline. I do really like the Godiva ganaches and wish they had continued with their single origin selection because I love the idea of educating people about where their chocolate actually comes from.
Godiva actually makes their own chocolate from the bean which is fantastic to someone like me. They aren't just buying it in – they care about making it from scratch.
In this particumat chocolate box of 6 chocolates, you get: Fondant Chocolat (dark ganache, dark chocolate) Fondant Vanille De Tahiti (fruity and floral ganache, white chocolate) with the Lune Passion, Perle Amande Lait, Eclat Feuilletine and Moelleux Caramel Framboise (YUM!)
So overall a nice selection with a Valentine's heart but without the cheese 😉
You can buy these from Godiva in their shops (I like to go to Regent St) or online HERE