January 15, 2013
Denise Acabo – Les Etoilles D'Or – A Visit To Her Shop
'Eating chocolate, to me, is like an orgasm.' These words, or ones like them, reported by Jim White, who recommended Denise's shop to me, have followed Denise through the years – but not without reason.
Denise Acabo is the grand dame of the chocolate business in Paris it seems. Everyone has heard of her, her shop is frequented by those who know of her even though it is off the beaten path and she is quite the character to meet in real life. She spent her youth travelling around France, trying chocolate everywhere she went. When she finally returned to, and settled down in Paris, she opened her shop. 43 years or so later and it is still going strong in the Moulon Rouge area of Paris.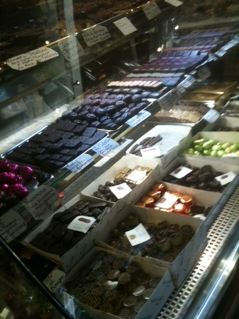 Traversing through the tourist-infested junction, we found the small side street Denise's shop as on and walked the few blocks down to the shop. Firmly off the tourist path and yet still frequented, the shop has the look of a traditional old fashioned chocolate shop. Looks are often deceiving though and a closer inspection of the delights on offer through the window reveal some of France's leading chocolate houses emblazoned on the chocolates within.
The shop is small and while it can fit 5 or so comfortably, more than that becomes a squeeze. Mirrors create the illusion of size where they aren't covered by brightly covered caramels or chocolates and the central display case can be walked all the way around.
Within the display case are a few rare gems – one chocolate is made with hazelnuts grown on a farm in France where they also roast and grind them to create their praline filling. This is in carefully moulded chocolate snail shells. Only the farm and Denise sell these special chocolates. There are similar stories for several other chocolates where Madame Acabo is the only person actually selling the chocolate other than their creator. The caramels I selected were apparently part of that legacy of her travels as well – she is the only shop in Paris (or anywhere likely) selling them.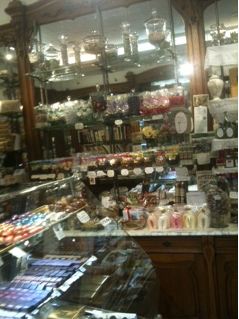 When I chatted to Madame Acabo, she spoke about the pleasure one gets from eating chocolate and how some ganaches she finds too "feminine". As my French is poor, and her English is not where her confidence lays (though she is very conversant in it), she describes the sensation of eating chocolate to be and the difference between a larger ganache or praline and another maker which she chose not to carry.
'The chocolates are too feminine' she explains after I express my enjoyment of one chocolatier 'I place one in my mouth, there is five seconds of pleasure and then nothing.'  She continues to explain 'I place one of THESE chocolates in my mouth' she says, pointing to one of the larger ganaches in her counter 'and I feel…mmmmmmmm'. The difficult thing here is to describe the in-person experience without referring to the first line of this post. As she describes the way the larger chocolate is like, she closes her eyes, moans ever so slightly and moves in a way that could be interpreted as somewhat sexual. She is clearly passionate about chocolate and the larger the better!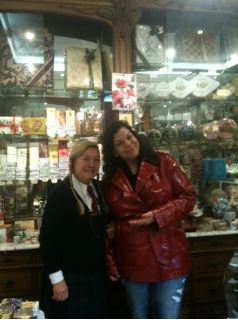 I walked away with over €135 in chocolates, toffees, and gifts. I'm not clear how I managed that but I did somehow! It was so much fun and there is so muck you can buy in one place for which you'd normally have to traverse the country, it is easy to leave with several kilos of chocolate 😀
If you are ever in Paris you have to visit Les Etoilles D'Or. If you have never been to Paris, visit Paris and make a special trip to Madame Acabo's shop. Make sure you say hello and ask her about her favourites because of you tell her what you like, she will find you the perfect chocolate!