January 16, 2013
Chocolat Bonnat Porcelana 75% Dark Chocolate Bar Review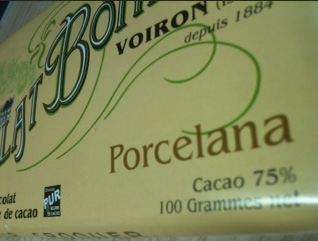 I bought this chocolate bar on the advice of Madame Acabo from her shop in Paris Les Etoilles D'Or. She made a dismissive gesture when referring to the other bars in her cabinet, steering me to the Porcelana. Now, I've had mixed experiences with Porcelana in the past and so I was reluctant to try this brand which was not well known to me.
The imaging on the bar looked old and to me old meant bad because old means lack of innovation and being stuck in the past. Old to me meant gritty chocolate with a less desirable mouth feel. Old to me meant the way they used to treat chocolate – without enough reverence, care and attention.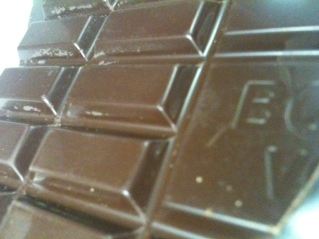 I knew that 70% had used Bonnat at their tasting but beyond their trust in the bar, I had no knowledge of their chocolate and so, placing myself in Madame Acabo's hands, I agreed to purchase the bar. I am not sure if I trusted Mme Acabo in that moment but had faith.  Thank goodness I did as well!
To me, if I had to sum up what I was getting besides a clarion call to chocolate, I'd have to say it tastes like a dusty raisin. There are purple fruits with a bite of acidity in the cheeks that quickly tingles and makes your mouth water. There is a hint in the background of something a little like chalk that comes through the nose but mainly you get these gorgeous dried purple fruits and acidity, founded on a solid chocolaty base.
This is a gorgeous bar and a wonderful chocolate that I immediately placed in my handbag and have been nibbling ever since. The extremely mild chocolate means there is no bitterness, despite the slightly higher percentage and the extreme chocolaty-ness means you get a brilliant chocolate flavour even if you aren't aware of the other tasting notes.